Every man who loses his hair wonders how to look good bald. After all, if you can't rely on your hair anymore, how else can you change or improve your image?
I've been shaving my head for nearly 20 years, and in that time I've made plenty of mistakes with my appearance. I've put this guide together using all my experience, good and bad, so you don't have to make those same mistakes!
We'll cover everything from clothes and skin tone, to how your physique and overall health can make you look better as a bald man. Most importantly, I'll explain how to keep your bald head itself looking its best.
How to look good bald – key points
Bald looks a thousand times better than balding
When shaving, use the right tools for the job
Fix up your wardrobe
Take care of your skin (especially your scalp)
Accessorize
Grow a beard if you can
Get in shape, and focus on your upper body
Tattoos aren't for everyone, but they help
Get the best tan you safely can
Confidence is key
Make sure you look good bald BEFORE you go bald!
1. Bald looks a thousand times better than balding
First and foremost, hair loss is stressful. While everyone online will tell you to shave it off as soon as you start to lose your hair, it's important not to feel pressured into making a decision.
Not everyone is comfortable with buzzing or shaving their head, or willing to accept that it's the only option.
The main thing is not to delay taking action as balding is a terrible look. Personally, life as a bald man has been good to me and I'd recommend that anyone experiencing hair loss at least tries the shaved head/buzz-cut look.
However, if you don't think that's for you, there are other options. Medication, transplantation, hair systems, and even a buzz-cut fine-tuned with some SMP are all great options. Do what works for you, just don't waste time worrying about hair loss.
2. When shaving, use the right tools for the job
It can be easy to assume any old razor or electric shaver will do, but whether you're buzzing or wet-shaving your head, it's vital to use a good quality piece of kit.
Wet-shaving
For those of us who shave our remaining hair bald, you can avoid razor bumps on the back of your head and general irritation by using a good quality shaving gel or foam, and choosing a good razor.
Personally, I use the Leaf Razor. It gives me the closest shave I've had in nearly 20 years of shaving my head, and it's completely plastic-free so it helps the planet, too.
You can get 10% off your Leaf Razor and any other Leaf Shave products by clicking the button below to their official site. Once there, use the code HAPPY10 at checkout to get your discount:
The Leaf Razor
3-blade design reduces the number of strokes needed to shave

Pivoting head maintains the correct blade angle for you
Non-proprietary blades, compatible with any standard safety razor blade
All-metal razor, steel blades, completely eliminate plastic waste from your shave
10% off with code HAPPY10
The Leaf is more on the premium side, so if you're not ready to shell out $70+ for your razor, you can find more budget options in my guide to the best razors for shaving your head.
Note that there are a lot of ways to mess up a wet shave so read up on how to shave your head with a razor before you dive in!
Electric shavers
If you're not wet-shaving, there's a ton of hardware on the market to pick from.
When choosing an electric shaver for your head, you're going to want to consider a few things:
The type of blades/cutting system
Head flexibility
Battery life
Wet/dry shaving capability
Noise level
Because there's a lot to consider, I've written up my recommendations for the best electric shaver for your head.
The winner was the Skull Shaver Pitbull Platinum (below) as well as the Silver model which is also a great option if you're on a smaller budget:
Skull Shaver Pitbull Platinum PRO
Wet & dry shaving
90 seconds and done
Flexible shaving heads
Cordless use up to 90 mins
3. Fix up your wardrobe
Firstly, it's important to dress your age as a bald man. How to make bald look good bald in your 20s is not the same as how to look good bald in your 40s.
Fashion for bald men is a little different than for guys with a full head of hair. There are two principles at play for us baldies – contrast and head size.
Contrast
Firstly, a bald head is the same color all over. A beard helps, but bald guys are generally missing the contrast that hair adds against the skin.
This is especially true for white men, and it's important to add some contrast back into your look by dressing for your skin tone.
If you have pale skin, wearing dark-colored clothing such as black, navy, or dark gray immediately restores contrast. If you have a medium skin tone, colors such as olive green, beige, and earth tones like brown and rust can work well.
Finally, if you have dark skin, wearing light and bright colors like white, pastel pink, and light blue will complement your skin color.
Head size
There's a weird optical illusion that comes with shaving your head. The lack of hair actually makes your head look smaller, with the added bonus that your upper body looks proportionately bigger.
The downside is that baggy or loose-fitting clothes on the upper body will make your shaved head look even smaller, so go for a slim fit.
Stick with tops that are fitted, but not too tight. Even if you have the physique for it, nobody likes a show-off, so ditch the spray-on muscle-fit shirts. You're looking for clothes that contour your physique without looking like a latex superhero outfit.
The choice of fabric is important for bald men. Heavy fabrics can add unnecessary bulk, again making your shaved head look disproportionately small.
When choosing a jacket as a bald man, color and fit should follow the guidelines above. Again, avoid anything too bulky that will exaggerate the fact that having no hair makes your head look smaller.
Of course, if you have a particularly large head, tight-fitting clothing will exaggerate this. Add layers to your outfit to bulk out your upper body without suffering the untidy appearance of baggy sweaters and jackets.
4. Take care of your skin (especially your scalp)
All men should have a good skincare routine, but it's especially important for bald guys.
With no hair to distract the eye, your skin is on show all the time. Also, a bald head adds a lot of surface area for people to pick out blemishes.
Always make sure your skin looks great by cleansing, moisturizing, and protecting your skin from harmful UV rays. This can help to prevent premature aging, acne, and other skin conditions.
Avoid smoking and excessive alcohol consumption, and eat a healthy diet. A good amount of fresh fruit and vegetables, healthy fats, and protein will help.
Finally, make sure you're getting enough sleep, and drinking plenty of water.
When it comes to bald head care, a lot of the same rules apply. However, pay extra attention to your scalp and your bald head can become a real asset for your look.
Exfoliate
Firstly, bald men need to exfoliate their heads to remove dead skin and built-up dirt, oil, and sweat. If your scalp isn't properly maintained, this layer of grime gives an unhealthy, dull appearance and causes friction while shaving. It can also develop a weird smell if not kept in check.
I exfoliate before shaving to make sure my razor gets as close as possible without a layer of dirt and dead skin sabotaging my shave.
You can use a washcloth for this, but I prefer to have the right tools for the job. I use The Bald Brothers' Smooth AF scrub to maintain my melon, and if you click the link to the official site below and use the code HAPPY20 at checkout, you'll get 20% off:
Smooth AF Bald Head Exfoliate Scrub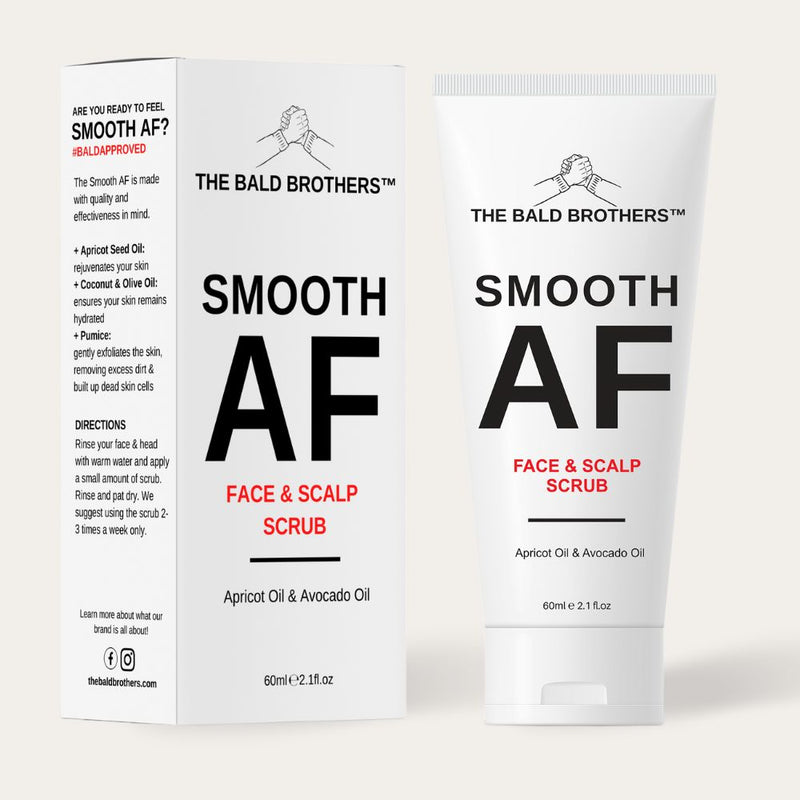 The Bald Brothers
20% off with code HAPPY20
Gently removes

dirt & dead skin

Ideal pre-shave treatment
Doubles as scalp & face cleanser
I use Smooth AF because it's a great all-round scrub, but there are other options. For example, there are more suitable products if you have sensitive skin, or if you're working to a budget. You can read about them all in this guide to the best bald head exfoliating scrubs.
Shampoo
Yes, shampoo.
I've been shaving my head for nearly 20 years since I lost my hair in my early 20s. I've been through phases of using only water and washing with soap before settling into a proper maintenance routine, which definitely includes shampoo.
Bald people need shampoo because it's important to keep your scalp healthy. Most of the time I use whatever shampoo is available in the shower. Usually, that's my wife's fancy shampoo for colored hair (don't tell her) or my kids' more sensitive shampoo.
For those who prefer a specialized bald head wash, there are products available that are specifically formulated to cleanse and care for a bald scalp.
I wrote about the best shampoos for bald heads and the best option for general use (for those who don't have particularly dry, oily, sensitive, or itchy scalps) was C3 Head Wash:
C3 Head Wash
Designed precisely for face and scalp
Non-comedogenic and hypo-allergenic fragrance-free formula
pH balanced to support healthy skin on the face and scalp
These products often contain ingredients like salicylic acid, which helps to exfoliate the scalp and remove any buildup of dead skin cells. They may also contain moisturizing ingredients like aloe vera or tea tree oil, which help to keep the scalp hydrated and prevent dryness and flakiness.
Moisturize
If you regularly shave your head, you'll understand the importance of a moisturizer to manage that awful dry feeling on your scalp.
A good moisturizer or oil for a bald head is essential, especially after wet shaving. I use Bald Boss Face and Scalp Moisturizer on a daily basis, and if you click the link below to the official site and use the code HAPPY20 at checkout, you'll get 20% off:
Bald Boss Moisturizer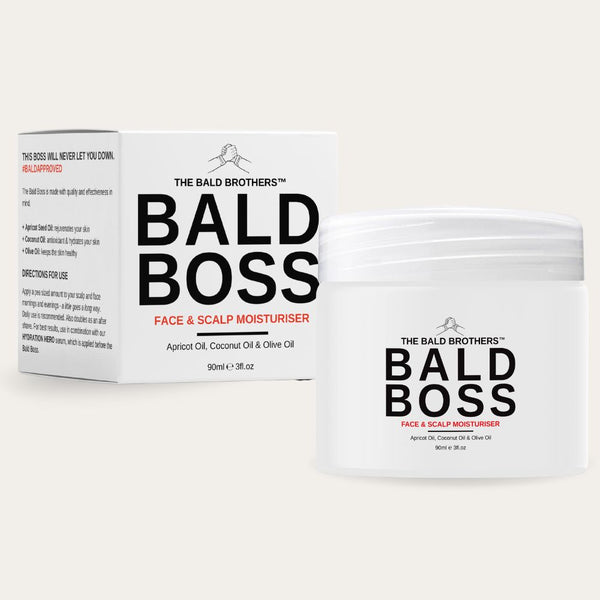 The Bald Brothers
20% off with code HAPPY20
Softens and moistens your bald head
Hydrates your dried-out scalp
Made with natural ingredients
Non-greasy
The only downside to this moisturizer is a lack of SPF protection, but if you want some more options I've written about the best bald head moisturizers.
Sun safety
Speaking of SPF, tanning a bald head safely is a huge factor in keeping your dome looking its radiant best.
I have a medium-to-pale skin tone and like to keep my tan topped up as best I can. However, I don't suggest taking risks with your skin, and always recommend that bald guys look after their heads when the sun is shining.
This means remembering to put sunscreen on when tanning a bald head. Otherwise, you're at risk of sunburn, and this could cause long-term damage to the scalp. The head is the most exposed area to the sun, so it is vital that it is protected.
Of course, I've been caught out before. Having a good tan is a great way to look good bald, but if you're impatient and skip your sun safety routine, your scalp is going to end up looking like this:
And a peeling head could be the least of your worries if you burn your scalp regularly.
Firstly, this kind of neglect could lead to skin cancer if you're either letting your bald head bun regularly.
Less seriously, you could cause aesthetic damage to your scalp, which can develop blotchy areas of sun-damaged skin.
Don't look for shortcuts to a better tan. Use a good quality sunscreen like this one from Sun Bum:
Sun Bum Skin Care SPF 30 Daily Sunscreen Face Mist
Vegan and reef-friendly

UVA/UVB protection

P

acked with Vitamin E
5. Accessorize
Accessories can be especially important for bald men as they can help to frame the face and balance out the lack of hair on an otherwise plain-looking bald head.
For example, hats, scarves, and sunglasses draw attention to the face and neck, creating a more balanced look.
Make sure you check out my guide to the best sunglasses for bald men to make sure you're choosing the right pair for your face shape.
Hats
Hats are a great replacement for a full head of hair, especially by using color to contrast with your skin tone.
When choosing a hat as a bald man, make sure you understand which style of hat complements your face shape, and obviously make sure the hat is appropriate for the occasion. Don't wear a snapback to a wedding, and no trilbys with sweatpants, please!
For more information, check out my article that shows you the best hats for bald guys, including three to avoid at all costs!
Scarves
Scarves are another way to add detail and bulk up the area around the collar and shoulders.
They draw attention to the neck area and create a more balanced look against a bald head.
Plus, they look cool, adding color, texture, and detail to a variety of outfits.
Sunglasses
Sunglasses, as well as regular glasses, are a great way to add detail to a bald head. By wearing sunglasses, you add a point of interest in the middle of a face that can look plain with no hair to draw the eye.
Choose a shape and style that complements your head shape, as well as a lens color that works with your skin tone.
6. Grow a beard if you can
It's easy to look good bald with a beard. Having no hair on your head can look very 'uniform', but adding a beard breaks up what can be a plain look.
This is why the bald head and beard look is so popular. Speaking from personal experience, having a beard allows me to change up my look slightly now that my days of new haircuts are behind me.
I have a fairly oval face shape, so I keep my beard fairly short so it doesn't exaggerate the length of my face. If you have a round face, you'll likely want a longer beard to elongate the shape and make you look thinner.
It's important to choose the right beard style to complement the shape of your face, but the main thing is to have 'something' there.
If you struggle to grow a beard, I'd look at other ways to add detail and contrast to your face, such as a pair of stylish glasses. You can buy non-prescription eyewear to suit your look, but make sure you know how to choose the best glasses for bald men.
7. Get in shape, and focus on your upper body
If you want to look more attractive as a bald man, there's no better way to do so than to get in shape.
Having a skinny frame and a bald head can give the appearance that you're ill, especially if you have a pale complexion. But, along with growing a badass beard and getting a tan, building some muscle is the best way to make sure that being bald doesn't impact your dating life too much.
Focusing on your shoulders, arms, and upper chest will again draw attention away from your bald head. I'm not saying you should skip leg day, but developing a pair of boulder shoulders is a great way to look better as a bald man.
Finally, focus on back exercises like lat pulldowns to improve your posture. Not only does strong posture make your newly-added muscle more obvious, but it improves the overall impression you give if you're approaching the world with your chest out and shoulders back, instead of hunched up and looking at the floor.
It's important to note that not everyone may want to go to the gym or have a muscular physique. There are many ways to stay active and achieve a healthy appearance that don't involve weight lifting or bodybuilding.
Ultimately, whether or not to build muscle as a bald man is a personal choice. While a muscular physique no doubt looks better, there's no one "right" way to look or be. The most important thing is to feel comfortable in your own skin.
8. Tattoos aren't for everyone, but they help
You don't automatically need to get inked as soon as your hair falls out, but there's no doubt tattoos have been making bald look good for decades.
Tattoos and a bald head are great for the hipster style, and the rock dude image is one of the best looks for bald guys.
Having some ink is far more mainstream these days and just about anyone can pull it off. Again, it's about adding detail below the neck to balance out the relatively plain appearance on top.
I've had a fair bit of work done on my arms and back, and love how the full sleeve on my right arm looks with my bald head. I'm not the most metal guy around, but I feel pretty cool with my inked arm appearing out of my t-shirt sleeves!
Of course, not all bald men need to have a tattoo to look good. Some people can't stand them, and that's OK too. It's about ticking as many of these boxes as you feel comfortable with, and if you happen to like tattoos then it's just one more way to look good bald.
9. Get the best tan you safely can
If you have naturally pale skin, you're going to want to get a tan if you want to look good as a bald man.
Not only will a darker skin tone give a healthier appearance, but it's a great way to hide the 5 o'clock shadow that starts to emerge when you haven't shaved your head for a day.
The contrast between your bald head and the stubble around the sides isn't a good look, but a tan minimizes the visibility of the horseshoe pattern that emerges as your hair grows.
As mentioned above, tanning safely is important to keeping your bald head looking good. Sun damage will give you blotchy skin on your scalp over time, but avoiding sunburn is a great way to keep an even skin tone on your bald head.
10. Confidence is key
Many people agonize over hair loss only to find that they're relieved when they shave their head because they're free from the worry of whether people can tell they're losing their hair.
By taking action they feel a sense of control, rather than the helplessness of knowing they're losing their hair (they're taking action rather than having something happen to them). Projecting confidence is lesson number one in how to be bald and attractive.
It's pointless sharpening up your wardrobe, building muscle, and growing an amazing beard if you carry yourself like you're afraid of the world. People respond well to others who carry themselves with conviction, and women constantly choose confidence as the most attractive quality in a man (not hair!).
Note that being confident and direct is very different from being arrogant and childish. Always aim to come across confident, while being polite, positive, and considerate of other people's feelings.
Very few people are naturally confident, myself included. But as I found out, the best way is to fake it 'til you make it.
Being confident and acting confident can be two different things, but even things like how you walk can be improved. Do you shuffle along looking at the floor, or do you stride confidently into the world with your head up and shoulders back, ready to face the day?
It's not easy, but in time you can learn to be more confident, and the response you'll get from other people will breed a natural positivity in your interactions with the world. Here's a great writeup on how to build your confidence and appear more attractive.
11. Make sure you look good bald BEFORE you go bald!
There are ways to see what you'll look like bald before you decide to take the plunge.
Use apps or websites to add a bald filter to your head while you still have hair, or Photoshop yourself with a bald head. That way, if you decide it looks horrendous, you have time to do something about it.
Start changing things up before your hair loss becomes too obvious, whether that's growing a beard, getting a tan, or packing on some muscle.
Then when the time comes, you'll already look 100% better than your initial mock-up suggested you would.
If time isn't on your side, don't panic. Shaving your head isn't the only option.
If it's the full bald head that scares you, try a shorter haircut first, or even a buzz-cut. If the bald spots still bother you, look into SMP to fill in the areas where the hair has gone completely:
If your hair loss isn't too far gone, you may be a good candidate for medication to slow or even stop the process. Drugs like Finasteride and Minoxidil have side effects and don't work on everyone, but it's worth speaking to your doctor about whether this is a good option for you.
If all else fails, you can always look into a transplant. Hair transplants don't hurt much, they're also not as expensive as you might think, and they're permanent.
If you're still on the fence about whether to shave your head, check out this flowchart I made to help with the decision:
How to look good bald without a beard
Lots of people either can't grow a beard or don't want to, so going bald can be extra annoying when everyone is advising you to embrace facial hair.
There's no one-size-fits-all solution to looking good bald. What works for one guy doesn't work for everyone. So if you don't feel like growing a beard, don't grow a beard.
What you can do is pick and choose from the other solutions above to look better with a bald head. If you're tanned and in good shape, and your skin looks great, nobody is going to complain that you don't have a great big beard to make your bald head look better.
How to look good balding
If you're not ready to take action just yet, there are some ways to improve the appearance of your hair if you've started balding.
You can cover up with hats and style your hair to hide the thinning parts, but honestly, it's not worth it. You're sentencing yourself to a longer period of anxiety over your hair loss and putting off the inevitable decision.
One gust of wind and your cover-up is ruined. Or, if hats aren't appropriate for the occasion, you've nowhere to hide.
You can kid yourself that people haven't noticed your hair loss, but trust me, they have. Even if your friends are polite enough to tell you it doesn't look bad, they're not doing you any favors by giving you false hope.
You don't have to shave your head, but you should take some kind of action so you can own your hair loss, instead of suffering from it. The sooner you take back control, the sooner you can stop worrying and start living.
FAQs
How can I make my bald head look good?
The best way to make a bald head look good is with a proper skincare routine. Exfoliate to remove dead skin and dirt, use shampoo to keep your scalp clean and healthy, use moisturizer to prevent dry skin, and always wear sunscreen to prevent sunburn and sun damage.
Does a beard look good with a bald head?
A beard generally looks great with a bald head, as it creates a balanced look between the hair on the face and the lack of it on top. Beards also add texture and depth to the face, as well as contrasting with the skin tone of men with pale complexions.
How do I know if I will look good bald?
To see whether you'll look good bald, try one of a number of apps that are available for your smartphone that will add a bald head filter. You can also use Photoshop if you or a friend are skilled enough to add a bald head to cover your own hair.
What kind of glasses look good on bald guys?
Rectangular or square-shaped glasses tend to look good on bald men, but it largely depends on the shape of the face. Bald men should also choose frames whose color complements their skin tone, and a style that works well with their clothes and overall image.
Do hats look good on a bald head?
Hats can work really well for bald men by adding contrast and detail to the head. Not all hats are appropriate for all occasions, but beanies and baseball caps are great for casual outfits, while newsboy caps add a stylish element to a smart casual outfit.


Get yours here
Does a mustache look good with a bald head?
A mustache can add a touch of quirky character to a bald head, and can also help balance out a longer face. While there are lots of mustache styles, choose the one that works best with your overall image, such as a handlebar for a stylish hipster look.
Does a round face look good bald?
A round face can look good bald, especially if you can grow out a fairly long, thick beard to elongate the face. If you're worried, losing weight and getting in shape is the best way to look after your health and narrow the shape of your bald head.

Learn more about the best and worst head shapes for bald men.
Summary
While there's no single way to look good bald that works for absolutely everyone, you can choose a combination of a few different elements to find a style that you're comfortable with.
If you don't like the gym, can't grow a beard, or burn as soon as your pale skin makes contact with sunlight, don't worry. It's not about ticking every box, it's about doing what you can to feel better about the way you look with a bald head.
The right clothes go a long way, but that doesn't mean every bald man should dress the same. Find your individual style and dress in a way that makes you feel comfortable.
The reason for this is that it's important that you're able to carry yourself with confidence. If you feel good, you'll project that confidence and instantly seem more attractive.
Whatever you do, look after that bald head of yours. Make sure you have a good skincare routine, especially for your scalp, and all the essential products for a bald head.
You and your dome are going to be together for a long time, so be good to your scalp by adopting a strict bald head care regime.
Did I miss anything? Tell me how you make bald look good in the comments.
We are sorry that this post was not useful for you!
Let us improve this post!
Tell us how we can improve this post?