(Last updated June 2023)
As someone who has been shaving my head for almost two decades, I've had plenty of experience with different products and grooming techniques.
In this post, I'll be sharing my personal favorite products that I use to keep my bald head looking and feeling its best. From pre-shave scrubs to moisturizers, I'll cover everything you need to know to maintain a healthy and attractive bald head.
Shopping list – every bald man should have:
A razor, electric head shaver, or both
Specialist bald head shampoo
Bald head moisturizer or oil
Sunscreen
A good hat collection
Scalp exfoliator
Sunglasses
There are other products that you can buy to make your life easier as a bald man, but some of these are 'nice-to-haves'.
I've listed my top recommendations for all these essentials below, as well as some other bald head products you might want to keep handy.
Best razor for bald heads
As someone who has tried many different types of razors over the years, there are two that I've settled on and love to use.
My budget recommendation is the Moto by HeadBlade:
HeadBlade Moto Head Shaving Razor
Lightweight and easy to maneuver around the head
Dual-axis suspension allows the MOTO to roll into the turns and hug the shaving surface
The narrow body and new soft finger ring makes shaving around ears a breeze
Pros
In my buyer's guide to the best razors for shaving your head, I recommend the Moto in the 'best design/easiest to handle' category, and you can probably see why.
As the razor fastens to your finger and sits inside your palm, the action of shaving your head is as natural as rubbing your hand over your scalp.
The unique additional features that the Moto offers are really well thought out. The rollerball acts as a guide for the blade to travel over your scalp, as opposed to the earlier ATX model that had actual wheels.
There are even vents in the casing at the side of the ball to allow it to be rinsed. They've truly thought of everything.
Cons
As a veteran head shaver, my main complaint is the closeness of the shave. The Moto gives a more-than-reasonable shave for a more-than-reasonable price, but if you're ready to trade up to something more premium that offers the closest possible shave, look no further than the Leaf Razor:
The Leaf Razor
3-blade design reduces the number of strokes needed to shave

Pivoting head maintains the correct blade angle for you
Non-proprietary blades, compatible with any standard safety razor blade
All-metal razor, steel blades, completely eliminate plastic waste from your shave
10% off sitewide with code HAPPY10
Pros
The Leaf Razor has become my go-to head-shaving razor since I started using it. I got the smoothest shave I've ever had with minimal passes, which reduces irritation.
They even gave me a 10% off code to share with you guys when you buy from the official site via the link above (use code HAPPY10 to get your discount).
I usually have to go over the edge of the horseshoe area where my hair still grows quite thick, but with the Leaf, this area was smooth first time, which shows the quality of the blades.
I also like that the Leaf is plastic-free, making it the most eco-friendly razor around. This adds weight, but despite the handle being heavy it's a really comfortable shave.
The acid test of a good-quality razor is when you step back under the shower to rinse. Sometimes you have to brace yourself for a sting when the water hits any little nicks or where there's irritation.
This time there was none, which was a really pleasant change.
Cons
Unfortunately the Leaf isn't the cheapest, so if you're on a budget you might want to check out the other recommendations in the full list of the best razors for shaving your head.
Best electric shaver for bald heads
If you're not keen on wet shaving your head completely bald, you'll be looking for a good quality electric shaver to keep your buzz cut on point.
If you're in the market, you can't beat the Skull Shaver Pitbull:
Skull Shaver Pitbull Platinum PRO
Wet & dry shaving
90 seconds and done
Flexible shaving heads
Cordless use up to 90 mins
Pros
One of the best things about this electric shaver is that you can use it wet or dry. Whether I'm in a rush and need a quick dry shave or want a more thorough shave in the shower, the Pitbull can handle it all. And the best part is I can shave my entire head in just 90 seconds!
The flexible shaving heads on the Pitbull are another standout feature over a foil shaver like the Andis Profoil.
They move and adjust to the contours of my head, making it easy to get a close shave without any nicks or cuts.
Another great thing about the Pitbull is that it's cordless and can be used for up to 90 minutes on a single charge. It's also relatively quiet, so I don't have to worry about waking up my wife if I need to shave early in the morning!
But the real reason why I love Skull Shaver's product is the quality of the shave it provides. You can feel some very short stubble, but I'd compare the closeness of the Pitbull's shave with the slight friction you'd feel the morning after shaving with a razor the day before.
The Skull Shaver is much more durable than other cheaper models I've tried in the past. I don't have to worry about it breaking right away or needing to replace it every few months. And if you want even more peace of mind, the Platinum model comes with an extended two-year warranty.
Cons
One thing to keep in mind is that the Pitbull is a little pricey. But in my opinion, it's worth every penny.
The Platinum model comes with some fancy accessories, but you can save around $100 by choosing the Silver model instead:
Skull Shaver Pitbull Silver PRO
Wet & dry shaving
90 seconds and done
Flexible shaving heads
Cordless use up to 30 mins
The Silver battery doesn't last as long and it doesn't come with all the bells and whistles, but it's a good option if you need to save some money.
What to look for in an electric shaver for your head
Rotary cutting system or foil blades
Head flexibility
Long battery life
Wet/dry functionality
Low noise level
If you're looking for other options to compare the Pitbull against, here's my full roundup of the best electric shavers for your head.
There are a few things to consider when deciding whether to shave your head with a razor or electric shaver, it just depends on what's most important to you.
Best shampoo for bald heads
While there are thousands of shampoos on the market, lots of them contain ingredients like sulfates and parabens which can dry out your scalp or cause irritation.
But there's one that stands out as the obvious choice for bald men:
C3 Head Wash
Prevents dry, flaky skin and/or oily skin
Hydrates and restores balance to skin
Sulfate and paraben-free
Safe for you and the environment
Certified cruelty-free, never tested on animals, vegan
Made in USA
As someone who has been rocking a bald head for almost 20 years, I have to say that C3 Head Wash is one of the best products I've used to take care of my scalp.
While it's not actually a shampoo, it's specifically designed for bald heads and does an incredible job of keeping my skin healthy and hydrated.
Pros
One of the things I love most about C3 Head Wash is that it was created with a focus on using natural ingredients without unnecessary harmful chemicals.
One of the biggest benefits of C3's product is that it prevents dry, flaky skin and excess oil. It's incredibly hydrating and does an excellent job of restoring balance to my scalp.
I've never had to deal with an itchy, irritated scalp but plenty of people reviewing C3 Head Wash online say they've noticed a significant improvement after using it regularly.
Since it's sulfate and paraben-free, I don't have to worry about any harsh chemicals damaging my skin or the environment.
I also love that C3 Head Wash is certified cruelty-free, never tested on animals, and it's also vegan. It's great to know that I'm using a product that was created with ethical considerations in mind.
Cons
One thing to keep in mind is that C3 Head Wash doesn't lather as well as other shampoos. However, this is because it doesn't contain sulfates, which can dry out your scalp.
Instead, it relies on gentle, natural ingredients to clean your scalp and leave it feeling refreshed.
What to look for in a bald head shampoo
Find a shampoo that:
Regulates the production of oils to keep the scalp looking and smelling clean
Moisturizes to prevent a dry, flaky scalp
Doesn't contain sulfates (dry the scalp)
Doesn't contain parabens (irritate sensitive scalps)
If you want to look at other options, including shampoos that are specifically formulated for dry, flaky, or oily scalps, here's my guide to the best shampoos for bald heads.
Best moisturizer for bald heads
Even the most well-cared-for scalps get dry sometimes, which is why every bald man needs a good bald head moisturizer.
Personally, I use The Bald Brothers' Bald Boss moisturizer as I'm slightly obsessed with the citrusy smell. If you click the link below to the official site and use the code HAPPY20 at checkout, you'll get 20% off:
Bald Boss Moisturizer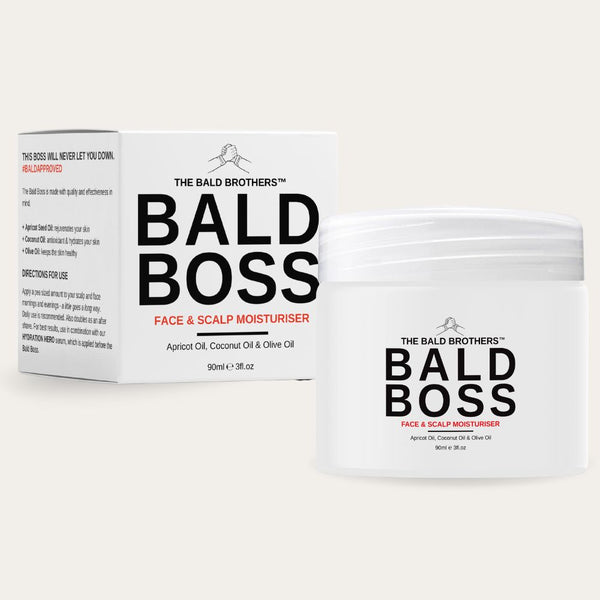 The Bald Brothers
20% off with code HAPPY20
Softens and moistens your bald head
Hydrates your dried-out scalp
Made with natural ingredients
Non-greasy
I've tried my fair share of moisturizers, and I have to say that Bald Boss is the best.
It's not just a general moisturizer – it's specifically designed for bald heads and can be used on the face and scalp.
Pros
This is a specialist product that does an amazing job of keeping your skin healthy and hydrated.
The moisturizer also tones, hydrates, and moisturizes your skin, which leaves you with a healthy, glowing scalp. This lotion also helps control oily secretions and immediately eases uncomfortable dryness. It's non-greasy, and it smells great too.
I've used many moisturizers over the years that left a greasy residue on my scalp, but Bald Boss soaks in so well that I can hardly tell I've applied anything at all.
Cons
The only drawback to this product is a lack of built-in SPF protection, which some moisturizers have. If you want to check out some other options, I've written up a full roundup of moisturizers for bald heads.
What to look for in a bald head moisturizer
Find a moisturizer with these benefits:
Fast-absorbing
Non-sticky
SPF
Organic ingredients
Best oil for bald heads
If you don't want to use a moisturizer, even one with organic ingredients, using a bald head oil is a way to find an even more natural solution.
I recently discovered jojoba oil as a fantastic option for moisturizing my bald head:
Cliganic USDA Organic Jojoba Oil
USDA organic certified
100% pure, single-ingredient oil
Benefits for skin, scalp, beard, and hair
Lightweight and fast absorbing
Non-GMO certified, vegan & cruelty-free
Pros
Again, I'm lucky to have a relatively healthy scalp, but for someone who suffers from dry skin, jojoba oil is a great option.
What's great about jojoba oil is that it's a natural moisturizer that is rich in vitamin E, making it an excellent option for anyone looking to soothe dry, flaky, or itchy skin.
Jojoba oil is gentle and hypoallergenic, making it a great option for those with sensitive skin. Unlike some other products I have tried in the past, jojoba oil doesn't irritate my skin or cause any breakouts. Instead, it leaves my skin feeling soft and smooth, without any oily residue.
Another fantastic benefit of jojoba oil is that it has antioxidant and antimicrobial properties, helping to protect the skin from harmful bacteria and environmental damage. I love knowing that I am not just moisturizing my skin but also providing it with added protection.
Cons
While jojoba oil is a great natural option for moisturizing, it's essential to note that it doesn't offer much protection against sunburn.
This is because it is only SPF4 rated, while moisturizers like Bee Bald's can offer superior SPF30 sun protection.
If you're looking for information on a specific oil and whether it's good for your scalp, here's my writeup of the best oils for a bald head.
Best hats for bald guys
The best hats for bald guys completely depend on the occasion – don't wear a trucker hat to a wedding!
Luckily, I've written a whole article about the best hats for bald guys for all events, styles, and situations, and included a summary below. Here are my recommendations for the best hat for all occasions:
Winter: trapper hat
Summer/hot weather vacation: straw fedora
Most stylish look: newsboy cap with a beard
Casual outfit: baseball cap or beanie
Formal occasion: trilby (or none)
Hats to avoid: fedoras, bucket hats, pork pie hats
Best sunscreen for bald heads
Sunscreen and sunblock are essential for bald guys. Our heads are the most exposed part of our bodies to the sun, with no protection from a full head of hair.
As someone who has burnt his head more than a few times, finding a good sunscreen that can protect my scalp from the sun's harmful rays has been crucial.
And while a great tan is one of the best ways to look good bald, skipping sunscreen in an effort to get a bronzed head is a mistake. Always tan safely using sunscreen like this one from Sun Bum:
Sun Bum Skin Care SPF 30 Daily Sunscreen Face Mist
Vegan and reef-friendly

UVA/UVB protection

P

acked with Vitamin E
Pros
Sun Bum Original SPF30 Sunscreen boasts dermatologist approval, and it's vegan and reef-friendly, so you can feel good about using it while also protecting your scalp.
It also contains plenty of Vitamin E, which is an antioxidant and helps to nourish the skin.
Additionally, Sun Bum doesn't contain any animal by-products such as collagen and elastin, making it a great option for vegans (like my wife) or anyone who wants to avoid animal-derived ingredients.
The spray-on application is super convenient and easy to use, making it ideal for someone like me who wants to quickly apply it before heading outside.
Cons
The only downside I can think of is that this sunscreen isn't specifically marketed for bald heads, but in my experience, it hasn't been an issue. The product works just as well on my scalp as it does on any other part of my body.
For more information, here's my post about tanning your bald head safely.
Best exfoliator for bald heads
As bald guys, we need to maintain a healthy and attractive scalp. One of the best ways to help this is to exfoliate regularly.
Exfoliating your bald head removes dead skin and accumulated dirt, oil, and sweat. Neglecting this step can result in a dull and dirty look, as well as friction during shaving which leads to razor burn.
I use The Bald Brothers' Smooth AF scrub to maintain my melon, and if you click the link to the official site below and use the code HAPPY20 at checkout, you'll get 20% off:
Smooth AF Bald Head Exfoliate Scrub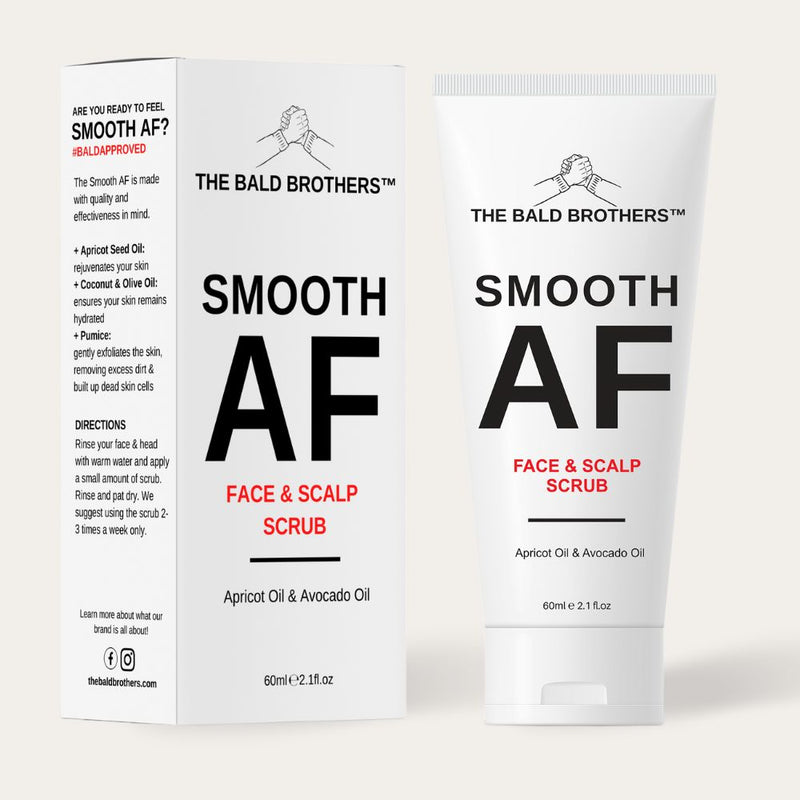 The Bald Brothers
20% off with code HAPPY20
Gently removes

dirt & dead skin

Ideal pre-shave treatment
Doubles as scalp & face cleanser
Why should you trust this review?
Expertise: I've been shaving my head for almost 20 years and this is the best scrub I've used
Experience: Unlike many online reviews, I've genuinely tested the product (images below are my own)
Pros
Unlike harsh scrubs, Smooth AF is remarkably gentle on the scalp, providing a comfortable exfoliating experience without causing irritation.
Smooth AF works really well as a pre-shave scrub, effectively removing dirt and dead skin cells. This allows a clean shave and prevents your razor blades from being clogged up with dead skin, which affects the quality of your shave.
It also works well as a face scrub, particularly for combating blackheads. Finally, with nourishing ingredients like coconut oil, Smooth AF helps retain moisture in the skin, preventing dryness and maintaining a hydrated scalp.
Cons
Smooth AF has a relatively thin consistency, so be careful when opening the jar to prevent spillage!
Finally, while it delivers exceptional results and comfort, Smooth AF may not be the most affordable option for those on a tight budget.
I use Smooth AF because it's a great all-round scrub, but there are other options. For example, there are more suitable products if you have sensitive skin, or if you are working on a budget. You can read about them all in this guide to the best bald head exfoliators.
Best sunglasses for bald men
Choosing sunglasses when you have no hair is all about selecting the right frames for your face shape. I cover this in detail in this post about the best sunglasses for bald men.
You can't beat the classics, so for most bald guys I usually recommend Aviators:
J+S Military Style Classic Aviator Sunglasses
100% UV protection
Ultra-light, durable metallic alloy frame
Multi-layer lens designed to filter and block over 99.96% of glare
Pros
Aviators are generally the best style of sunglasses for bald men. When you don't have hair, the shape of the frames is the key consideration, and Aviators have larger lenses that give a sense of proportion to the face.
Cons
Aviator-style shades work for most face shapes, but they're not a one-size-fits-all solution. For example, people with smaller heads might want to avoid them, as they have bigger lenses than most other styles and this might create an imbalanced look.
Other products to look after your bald head
The following products aren't exactly essentials, but they're handy to have around the place:
Styptic pencil
Cuts and nicks on the scalp are unavoidable when you're shaving so often in an awkward area that you can't fully see.
Ask any pro wrestler and they'll tell you that the scalp bleeds a lot, and it's not easy to stop it. That's where styptic pencils come in handy.
Clubman Woltra Nick Relief Styptic Pencil (Pack of 2)
Stops bleeding quickly
Works on minor nicks and deeper cuts
No more TP squares!
Styptic pencils work by contracting the blood vessels in the affected area, quickly stopping the bleeding. This is especially important for bald people since any blood that is visible on our scalp is noticeable.
Having one of these on hand can save you from having to walk around with an open wound or a tiny TP square on your head all day. It's a small but essential tool to have in your grooming kit as a bald guy.
Summary
There you have it, all my recommendations for the best products for bald men.
Most of them are there to help you care for your bald head, but if I've missed anything then let me know in the comments below.
We are sorry that this post was not useful for you!
Let us improve this post!
Tell us how we can improve this post?