If you're looking for the best shampoo for your bald head, you already know that having no hair doesn't mean throwing away the shampoo.
Bald people need to use shampoo just as much as those with hair, to keep their scalp clean and regulate the production of oil from the head.
I've been shaving my head for over 20 years, and for a lot of that time, I didn't use shampoo. Instead, I relied on moisturizer to combat the dryness I suffered after washing with regular soap.
But once I switched back to shampoo, I never looked back. Moisturizer is important, but it's best to combine it with a good quality shampoo for bald heads.
I've used a number of shampoos, read countless product reviews of others, and checked the ingredients of each one to create a list of the best shampoos for bald men. Here's what I look for, followed by my top recommended product:
What to look for in a bald head shampoo
Find a shampoo that:
Regulates the production of oils to keep the scalp looking and smelling clean
Moisturizes to prevent a dry, flaky scalp
Doesn't contain sulfates (dry the scalp)
Doesn't contain parabens (irritate sensitive scalps)
Best Shampoo For Bald Heads: C3 Head Wash
For everyday use, there can only be one winner. C3's specialist bald head wash ticks all the boxes in terms of what we're looking for in a shampoo:
C3 Head Wash
Prevents dry, flaky skin and/or oily skin
Hydrates and restores balance to skin
Sulfate and paraben-free
Safe for you and the environment
Certified cruelty-free, never tested on animals, vegan
Made in USA
Why should you trust this review?
Expertise: I've been shaving my head for nearly 20 years and in that time I've tried lots of shampoos and head washes
Experience: Unlike many online reviews, I've actually tested and used C3 Head Wash over a number of months.
No agenda: I haven't been paid for this review in any way
Pros
C3 (which stands for Comprehensive Cranium Care) designed their product range to address a gap in the market – bald head care without harmful chemicals.
As a result, their head wash not only cleans effectively, but it does so without drying out the skin, unlike regular shampoo which strips away the natural oils and leaves your scalp dehydrated.
Unlike a regular shampoo, it doesn't contain sulfates and it's paraben-free, which is great for your health and great for the environment, too.
Cons
The lack of sulfates means the product doesn't lather well, which can be off-putting when you're used to getting foamy shampoo all over your dome.
A good lather somehow reassures you of a good clean, and it can make you question the quality when you don't see that happening.
However, this is for a good reason. The suflates that are added to regular shampoos as a foaming agent are what dry out your bald head. Some even add other chemicals to balance out the dehydrating effect.
It's worth the trade-off of a good lather to avoid having unnecessary chemicals messing with your scalp.
Best Exfoliator & Cleanser in One
Bee Bald CLEAN Daily Cleanser
Gently exfoliates and thoroughly cleanses
Clean, fresh scent.
Leaves your skin refreshed and revived.
Use only a small amount . . . a little goes a long way!
Why should you trust this review?
Expertise: I've been shaving my head for nearly 20 years and in that time I've tried lots of shampoos and head washes.
Experience: Unlike many online reviews, I've actually tested and used Bee Bald CLEAN over a number of months.
No agenda: I haven't been paid for this review in any way
Pros
Bee Bald's cleanser contains exfoliating beads which means it does two jobs in one, especially as I always encourage bald guys to exfoliate and wash their heads before shaving with a razor.
This product is also a lot cheaper than C3, which is great if you're on a budget. The ingredients include jojoba esters which are gentle, biodegradable beads made from jojoba oil that physically scrub away dead skin cells.
As a result, the product leaves a really clean feeling and leaves a subtle, refreshing scent.
Cons
The only downside to this product is that it contains sulfates, which can cause a drying effect, so make sure you have a moisturizer on hand afterward.
I would also encourage you to use this product 2-3 times per week rather than every day. As mentioned in my article about exfoliating your bald head, these scrubs shouldn't be used daily as the exfoliating ingredients can harm the new layer of skin if overused.
If neither of these recommendations are for you, here are some other options for general use:
MANTL Face and Scalp Cleanser
Combats dryness by promoting moisture absorption
Manages excess oil and supports balanced skin
Sulfate, silicone, and paraben free
I'm a big fan of the MANTL brand, and their face and scalp cleanser is another that ticks all the important boxes.
Your scalp won't be dry after using it, because it contains a plant extract called allantoin which acts as a humectant, increasing the water uptake into the outer layers of skin.
It's also sulfate and paraben-free, so you won't experience any irritation on your scalp after washing with this cleanser.
Mountaineer Brand Bald Head Care Shampoo
Cleans and removes dirt, oil, and bacteria
Leaves skin feeling hydrated and refreshed
100% natural ingredients
Sulfate-free
Paraben-free
Another great choice for a general-use bald head shampoo, Mountaineer Brand's Cleanse is part of their bald head care range.
It's sulfate-free, which means it won't dry out your scalp while still providing a smooth, fresh clean. It's also paraben-free and made from 100% natural ingredients.
Best for dry/flaky scalps
Men with bald heads with naturally flaky scalps need to prioritize moisturizing properties when choosing a shampoo.
Even if, like me, your scalp is prone to dryness without ever becoming flaky, look for a moisturizing shampoo to help combat the problem.
Avoid shampoos containing sulfates, which are sometimes used as foaming agents but often cause dryness. I've sometimes used whatever shampoo is hanging around the shower for my kids to use, and noticed how dry my scalp feels afterwards.
You should also use moisturizer after shampooing to prevent that nasty dehydrated feeling. I've reviewed the best bald head moisturizers to make your life easier.
Below are the best moisturizing shampoos I've found during my research:
OGX Refreshing Scalp Teatree Mint Shampoo
Hydrating & moisturizing
Refreshing deep cleanse
Paraben-free
Sulfate-free
OGX's teatree mint shampoo focuses on hydrating the scalp, and is paraben and sulfate-free.
It also leaves your head with a subtle smell of peppermint, iced vanilla and tea tree, for those days when you're feeling fancy.
Neutrogena T/Gel Therapeutic Shampoo
Helps maintain a healthy scalp
Helps control scalp itching and flaking
Alcohol-free
This Neutrogena shampoo helps with flaking caused by conditions including scalp psoriasis, seborrheic dermatitis, and dandruff.
It does include sulfates in its ingredients, so you may want to keep a moisturizer or bald head oil handy.
The Body Shop Ginger Scalp Care Shampoo
Nourishes and soothes dry, itchy scalps
Contains natural ingredients including sustainably-sourced ginger essential oil
Vegan
This Ginger oil shampoo from The Body Shop gets rave reviews from customers who say their itching and flakes disappeared right away when they started to use it.
Again, there are negatives, including the inclusion of sulfates in the ingredients. But given how effective it is at targeting dryness and dandruff, it may be worth it.
Best for oily scalps
If you have an oily scalp, look for a shampoo that uses ingredients that properly regulate the production of sebum.
Sebum is a compound of natural oils that lubricate and protect the skin, especially when dry. Exfoliating your bald head to clear the pores of excess oil will help, and make sure you moisturize after shampooing so your scalp doesn't overcompensate.
Maple Holistics Tea Tree Shampoo
Brings balance to an oily scalp
Cleanses and moisturizes the scalp
Sulfate-free
Paraben-free
This shampoo is made to help those with oily hair, but as this issue is caused by scalp oils it's perfect for any bald man with a greasy scalp.
One reviewer advised leaving it on the scalp for at least a minute to let the nutrients in the shampoo work their magic.
Best for sensitive scalps
Bald men with sensitive scalps should avoid shampoos that contain parabens, which are preservatives that prevent bacteria buildup but can cause irritation, amongst other health issues.
If you find your scalp is itchy or blotchy after shampooing, consider switching to one of the products below:
Philip Kingsley Flaky/Itchy Scalp Shampoo Relieves itchy, irritated scalps
Clears flaking and build up
Multi-award winning anti-dandruff shampoo
Reviews for this shampoo are fantastic, especially those talking about how it relieves conditions like itchy, flaky scalps, and psoriasis.
If you have an itchy or irritated bald head, this is the perfect shampoo for you.
Aveda Pramasana Purifying Scalp Cleanser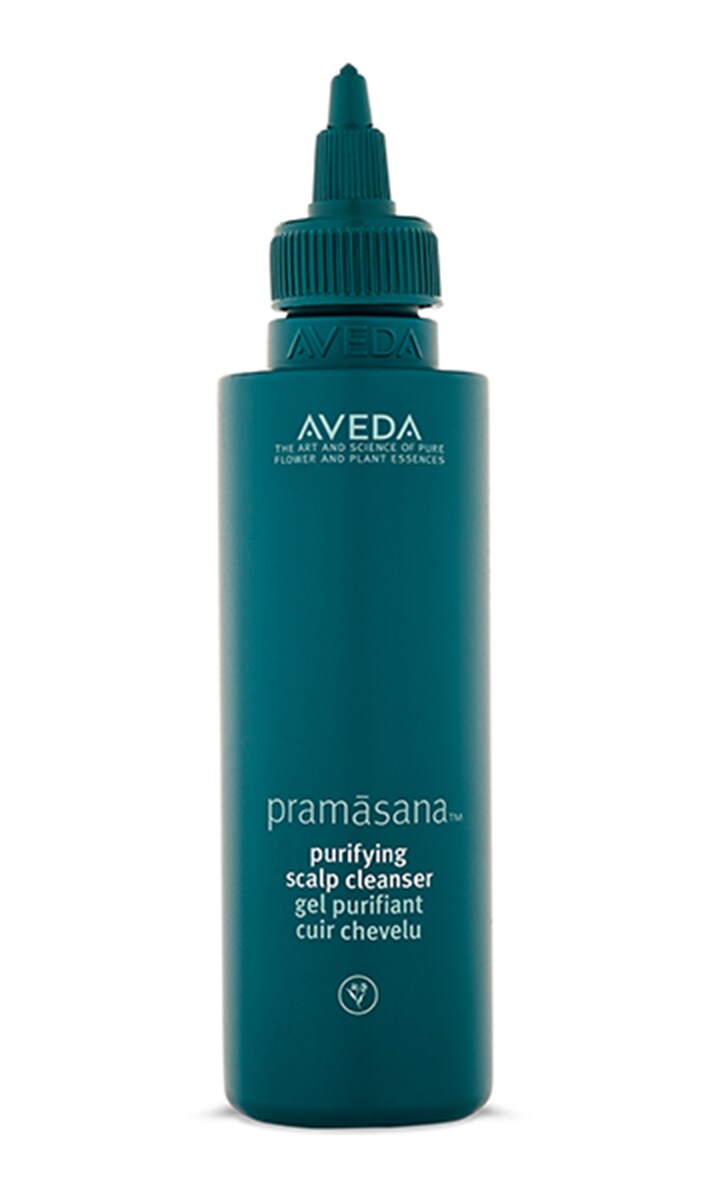 Relieves sensitive, itchy scalps
Sulfate-free
Paraben-free
Aveda's scalp cleanser has been a revelation for the many reviewers who say it relieved their itchy, sensitive scalps.
It's great to see natural ingredients like grapefruit, enroll, cypress and other pure flower and plant extracts, as well as being sulfate and paraben-free.
A word of warning – it does contain caffeine so avoid using this scalp cleanser if you're sensitive!
Sachajuan Scalp Shampoo
Soothes scalp irritation and removes dandruff
Maintains a healthy moisture balance
Paraben-free
Sachajuan's scalp shampoo is specifically designed to sooth itchy scalps, as well as reducing flakes. It contains an ingredient called salicylic acid, which sounds scary but is actually there to gently shed dead skin.
Aveeno Skin Relief Soothing Shampoo
Protects the skin's natural balance
Relieves itching related to dry and sensitive scalp
I've included Aveeno's Skin Relief shampoo as reviews say it's very good at relieving itchiness and dry scalp issues, but it does contain sulfates so be careful if you have conditions such as psoriasis.
How to wash your bald head
Always wash your bald head in the shower so the hot water can soften up the pores, which makes it easier to remove built-up dirt.
Exfoliate your head twice week, and preferably always before shaving. This removes the layer of dead skin, sweat, and oil that can form a barrier between your scalp and razor, increasing irritation.
Exfoliating ensures the closest shave possible as your razor has access to the very root of the hairs. Whenever I've skipped this step I've regretted it, as the sides of my head break out in an unsightly shaving rash.
I exfoliate with The Bald Brothers' Smooth AF scrub twice a week to maintain my melon, and if you click the link to the official site below and use the code HAPPY20 at checkout, you'll get 20% off:
Smooth AF Bald Head Exfoliate Scrub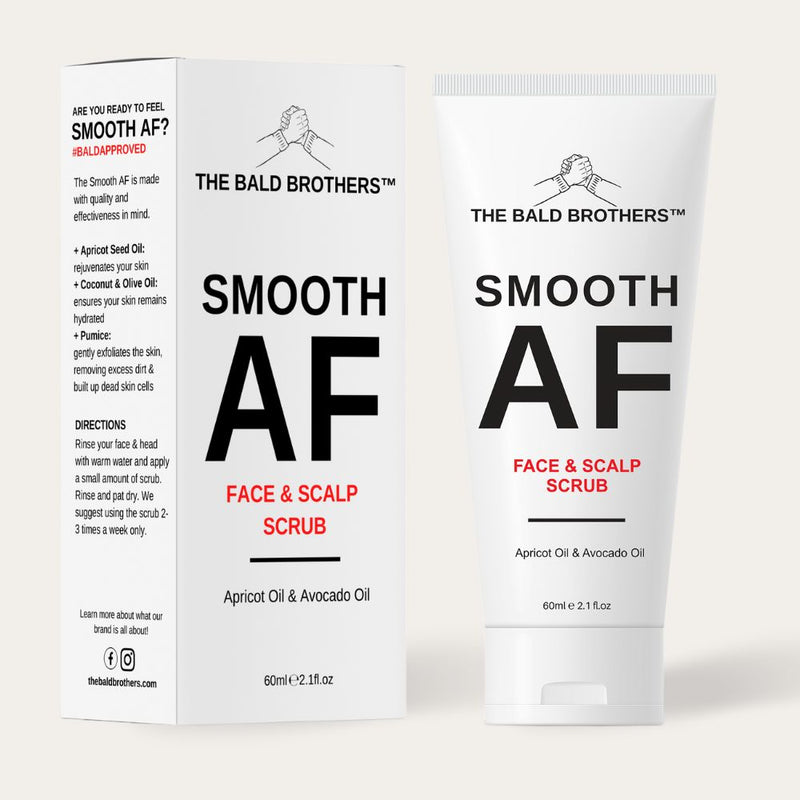 The Bald Brothers
20% off with code HAPPY20
Gently removes

dirt & dead skin

Ideal pre-shave treatment
Doubles as scalp & face cleanser
I use Smooth AF because it's a great all-round scrub, but there are other options. For example, there are more suitable products if you have sensitive skin, or if you're working to a budget. You can read about them all in my guide to the best bald head exfoliators.
From here, it's time to shampoo. Make sure you use enough to cover your head with a thick layer, and let the shampoo work for 1-2 minutes to lift off as much dirt as possible, before rinsing with warm water.
When you're done, be gentle with the towel but make sure your head is fully dry, then moisturize to avoid dryness. This is especially important after shaving with a razor, as this strips away the skin's natural moisturizer, which needs to be replenished.
FAQs
Should you use shampoo on a bald head?
You should definitely use shampoo on a bald head. Shampoo maintains the cleanliness and health of the scalp Shampoo is designed to clean the scalp and hair of oils, dirt, and dead skin cells, and without it, your bald head can become too dry or oily.
Is baby shampoo good for a bald head?
Baby shampoo can be great for a bald head as it's formulated to be kind to sensitive skin. Bald people with sensitive scalps that are prone to irritation should consider baby shampoo, but avoid products containing sulfates which can cause dryness.
Summary
Although many people assume bald people don't need shampoo at all, it's important not only to continue to use it, but to find the right shampoo for your scalp.
Remember that using a suitable shampoo is only one part of how to look after your scalp. There are plenty more products for bald head maintenance, and for more information on how to keep your dome healthy and happy, here's a complete guide to bald head care.
What shampoo do you use for your bald head? Let me know in the comments below.
We are sorry that this post was not useful for you!
Let us improve this post!
Tell us how we can improve this post?