Finding sunglasses as a bald man can be a challenge. This article offers tailored solutions for guys with shaved heads, ensuring you not only look stylish but crucially, that you know how to choose frames that complement your face and head shape.
I've been shaving my head for 20 years, so I've learned what looks good and what doesn't. I also spoke to Kevin Count, an expert eyewear designer at Corner Optical to get his insights.
Key Takeaways:
#1 Recommendation: Ray-Ban Aviators. A classic that complements most bald head shapes.
Key Advice: Understand your head and face shape. It significantly influences the best frame choice for you.
Key Considerations: Face & head shape, frame color, UV protection, size, style, lens color, and material.
Read on for: Specific recommendations tailored for your head shape. Discover the importance of UV protection for bald men, and get styling tips to elevate your overall look.
How to determine your face shape
What you'll need:
A flexible measuring tape.
A mirror.
A notebook or phone to jot down measurements.
Step 1: Measure forehead width:
Place the measuring tape across your forehead, from one temple to the other. Take this measurement at the widest point – usually halfway between your eyebrows and your hairline. Write down the measurement.
Step 2: Measure cheekbone width:
Measure across your face from the outer point of one cheekbone to the outer point of your other cheekbone. The measurement should be taken just below the outer corner of each eye. Record the number.
Step 3: Measure jawline width:
Start from the base of your jaw (just below your ear) and measure to the middle of your chin. Multiply that number by two to get the full jawline measurement. Note this down.
Step 4: Measure face length:
Place the measuring tape at the center of where your hairline used to be, and measure down to the tip of your chin. If you're unsure, raise your eyebrows. This makes the join between the forehead skin and the much thicker scalp very obvious.
Step 5: Compare measurements:
Oval Face: The face length is greater than the width of the cheekbones, and the forehead is wider than the jawline. The angle of the jaw is rounded.
Square Face: All measurements are fairly similar. The angle of the jaw is sharp.
Rectangle (or Oblong) Face: The face length is the largest measurement. Forehead, cheekbone, and jawline widths are relatively similar.
Round Face: The length and width of the face are nearly the same. Cheekbones and face length have a similar measurement, which is larger than the forehead and jawline. The angle of the jaw is soft and less defined.
Triangular or Heart-shaped face: The forehead measures greater than the cheekbones and jawline. The chin is pointed.
Diamond face: The face length is the largest, then in descending order: cheekbones, forehead, and smallest is jawline. The chin is pointed.
What are the best sunglasses for bald men? The full list:
Best bald men's sunglasses
Ray-Ban RB3025 Aviators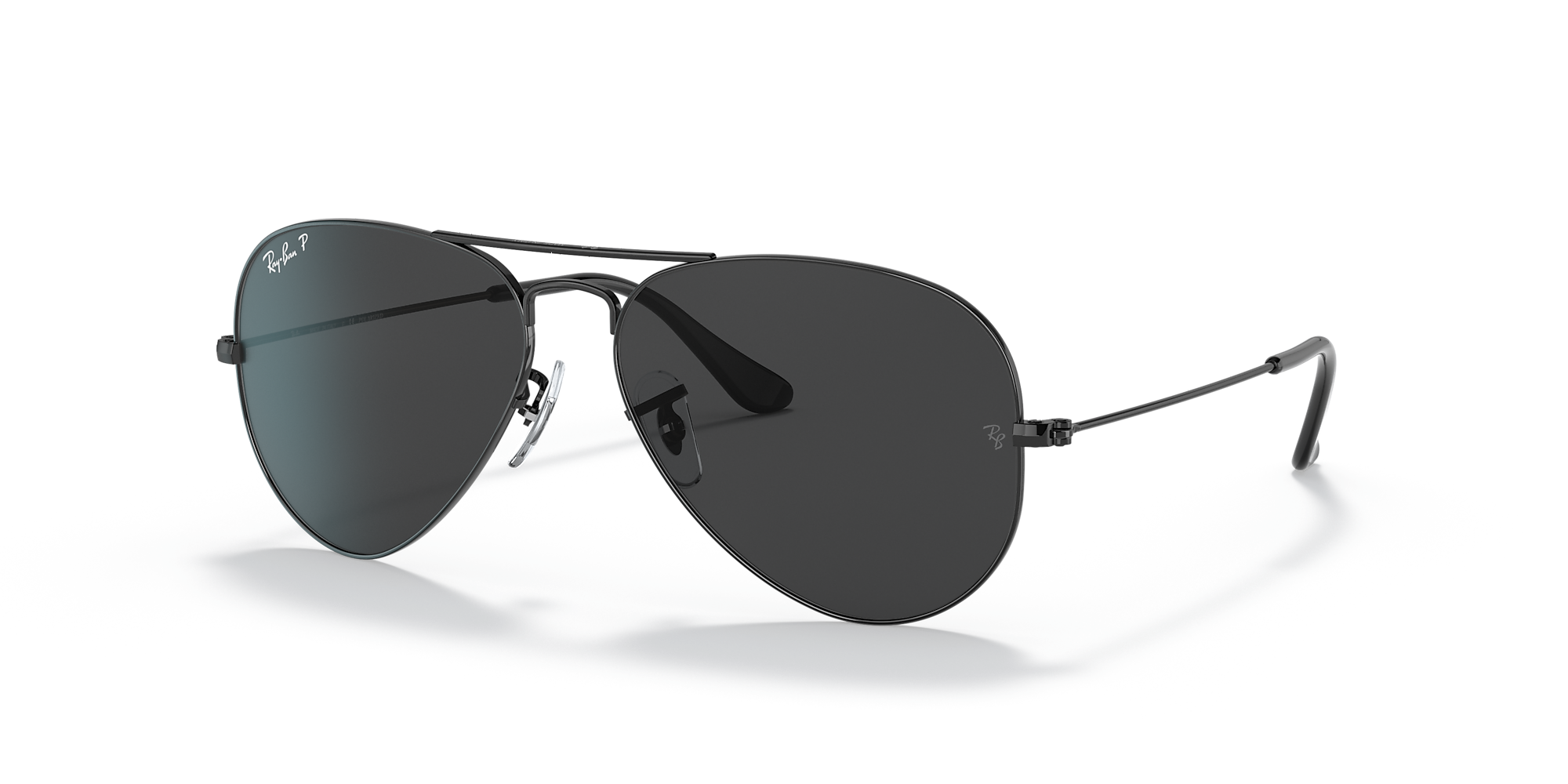 Classic Aviator Design
Durable Metal Frame
Comfortable Adjustable Pads
Excellent Clarity Lenses
UV Protection
Sophisticated Style
Aviators are generally the best style of sunglasses for bald men. This is because, when you don't have hair, the shape of the frames becomes crucial. Aviators, with their larger lenses, offer a sense of proportion to the face.
I love a pair of Aviator-style shades and keep a pair in the car for sunny days. This time, I went for the black frames/black lenses combination, but I've previously experimented with lens color:
I always feel a little cooler in them. It's hard not to think of Tom Cruise, even when I'm stuck in traffic on the school run!
Pros:
The bold shape and large lenses of Aviators draw attention to the center of your face. This helps de-emphasize a prominent forehead and exposed scalp. This gives your face contrast and a more balanced look.
Aviators are a timeless and fashionable style of sunglasses, so if you choose them, you can be confident that you've nailed the 'cool' factor.
Cons:
With Aviators, you're choosing a bold shape to create an interesting feature and draw the eye to your face, rather than one that necessarily complements the shape of your head.
It works with most head shapes, but if you have a very round shape to your face you might want to look for a different style. Similarly, bald guys with small heads might want to avoid Aviators because of their oversized lenses.
Aviators work for most bald people, but ultimately your head shape is still going to be a factor. I've listed specific recommendations for each head shape below:
Note: When you're shopping online, don't buy designer sunglasses from anyone you can't be 100% sure is selling the genuine article.
I've linked to Sunglass Hut below as they're a reputable retailer. However, lots of Amazon sellers will offer real designer brands like Ray-Ban, only for you to find out they're imitation products that are made in China.
Best for round faces
Bald men with more round faces may want to consider sunglasses with angular or square frames, as this can help to add definition to the face and make it appear less rounded.
Square or rectangular frames will elongate and slim your face by creating angular lines and balancing out the curves of a round face.
Here's Kevin's advice:
"The bottom outside corner of the frame should be the opposite of your jaw. Rounded jawline, square off the frame. Square Jaw line, rounded corners."
Ray-Ban Justin Classics RB4165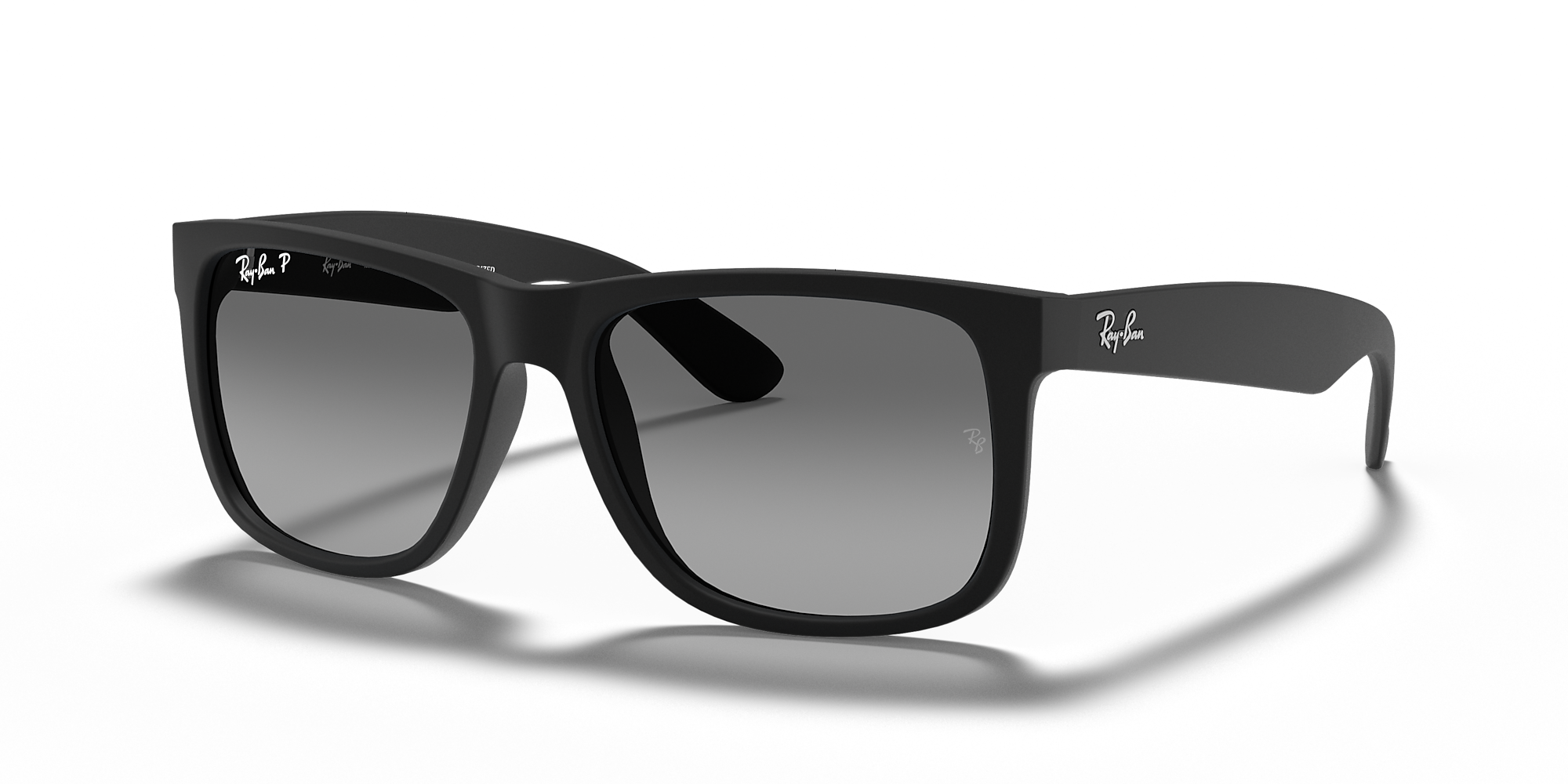 100% UV protection
Lightweight acetate frame
Comfortable geometric arms
Durable and long-lasting
Ray-Ban's popular Justin Classics are perfect for bald men with round faces. Their rectangular frames add definition to the face, making it appear less rounded and more balanced.
The sleek black frame and light grey lenses give a modern look that complements the clean lines of a bald head. The high bridge fit brings the level of comfort you'd expect from Ray-Ban.
The polarized lenses not only provide excellent glare protection on sunny days but also enhance color contrast for clearer vision.
These aren't cheap sunglasses, but they're an investment in style and quality. They are also available for prescription, making them a versatile choice for those who require vision correction.
The only downside is that nylon frames are generally used for cheaper models as they can become brittle over time.
Budget-friendly option:
You don't need to buy the official Ray-Bans to get the look. There are cheaper options in the same style on Amazon for the budget-conscious shopper:
KWHZXGYY Men's Polarized Sunglasses
100% UV400 protection
Polarized TAC lenses
Classic square frame
Lightweight plastic frame
Kevin also had a word of caution about face shape:
Lots of people think they have a round face when they don't. That's why I adopted a different system that only looks at specific features. Also, the rules are only suggestions. Have a Charlie Brown head but love wearing round glasses? You do you, Champ!
Best for square faces
If you have a bald head and a square face, it's important to choose sunglasses that soften the angles of your face.
Round or oval frames are perfect, as they add curves and balance out the sharp lines of your face. Avoid square or rectangular frames, as they can make your face appear even more angular.
Bearing in mind Kevin's advice above about looking for rounded corners to contrast with a square jawline, another great option for you is the ever-versatile Aviators. Their teardrop shape offsets the angles of a square face:
Ray-Ban RB3025 Aviators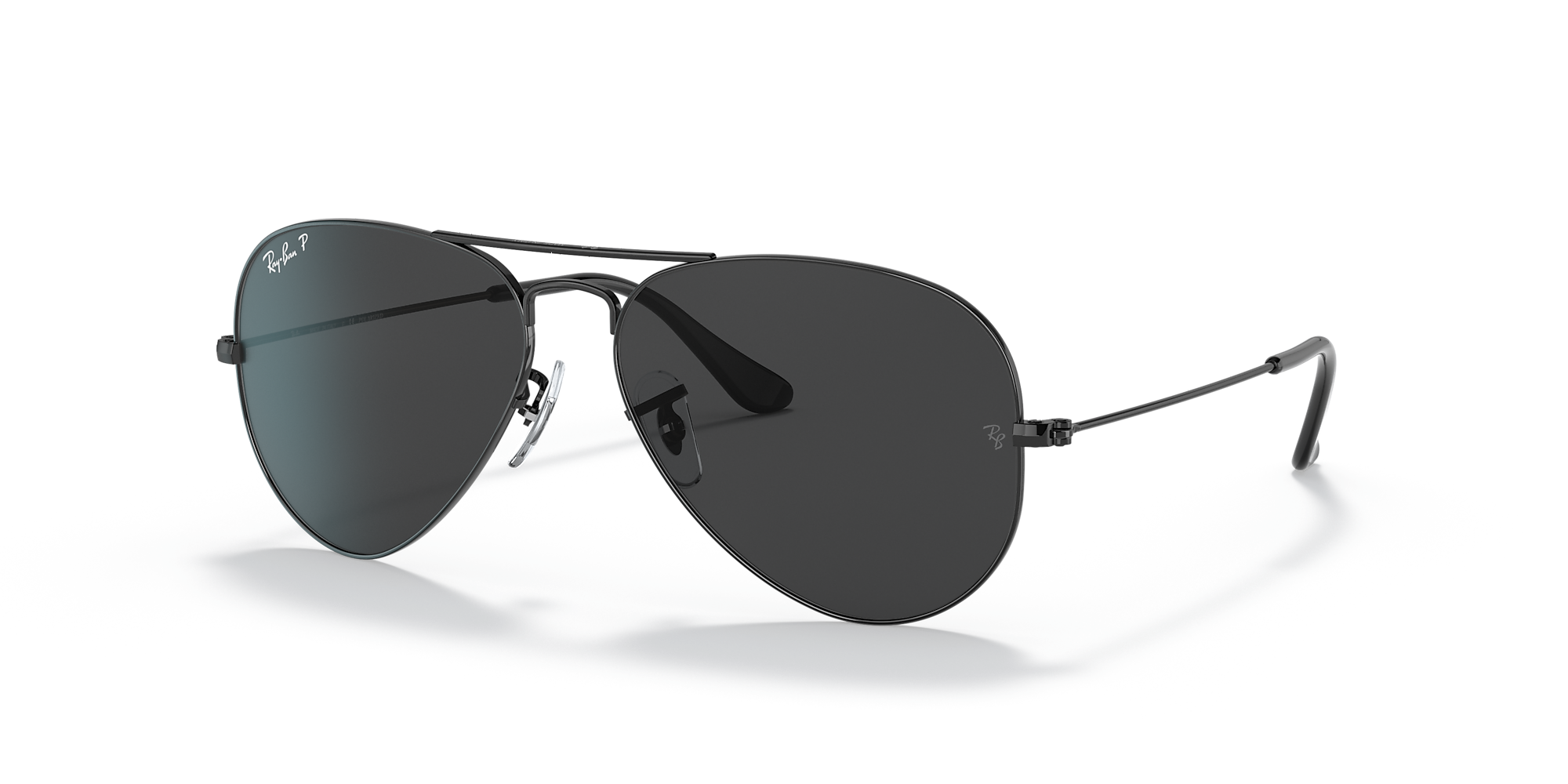 Classic Aviator Design
Durable Metal Frame
Comfortable Adjustable Pads
Excellent Clarity Lenses
UV Protection
Sophisticated Style
These Ray-Ban Aviators are a fantastic choice for bald men with square faces. The classic aviator design complements the shape of a square face as the teardrop shape of the lenses adds curves, softening the sharp lines of your face.
Don't discount the classic Aviators (teardrop shaped lenses) or the Navigator (rectangular-shaped) sunglasses. They never go out of style and there are some amazing examples of them on the market.
The shades come with adjustable nose pads, so you'll always get a comfortable fit. The polarized black lenses and black frame give them a sleek and sophisticated look.
Budget-friendly option:
You don't have to pay Ray-Ban prices to get the aviator look. These pilot-style sunglasses are available on Amazon for a fraction of the price.
Premium Al-Mg Alloy Polarized Pilot Sunglasses
UV400 protection lenses block 100% harmful UVA & UVB rays
Strong, impact resistance, lightweight frame
30-day money-back guarantee
Best for oval faces
For bald men with oval faces, the good news is that you have the most versatile face shape, which means you can pull off almost any style of eyewear.
However, there are still some tips to keep in mind to help you choose the perfect pair. Since your face is already balanced, you want to choose sunglasses that maintain that balance.
Wayfarers are a great option – their classic, angular shape complements the natural symmetry of your face. You can also try out aviators, round frames, or even cat-eye frames for a bold and fashionable look.
Ray-Ban RB2132 New Wayfarer Classic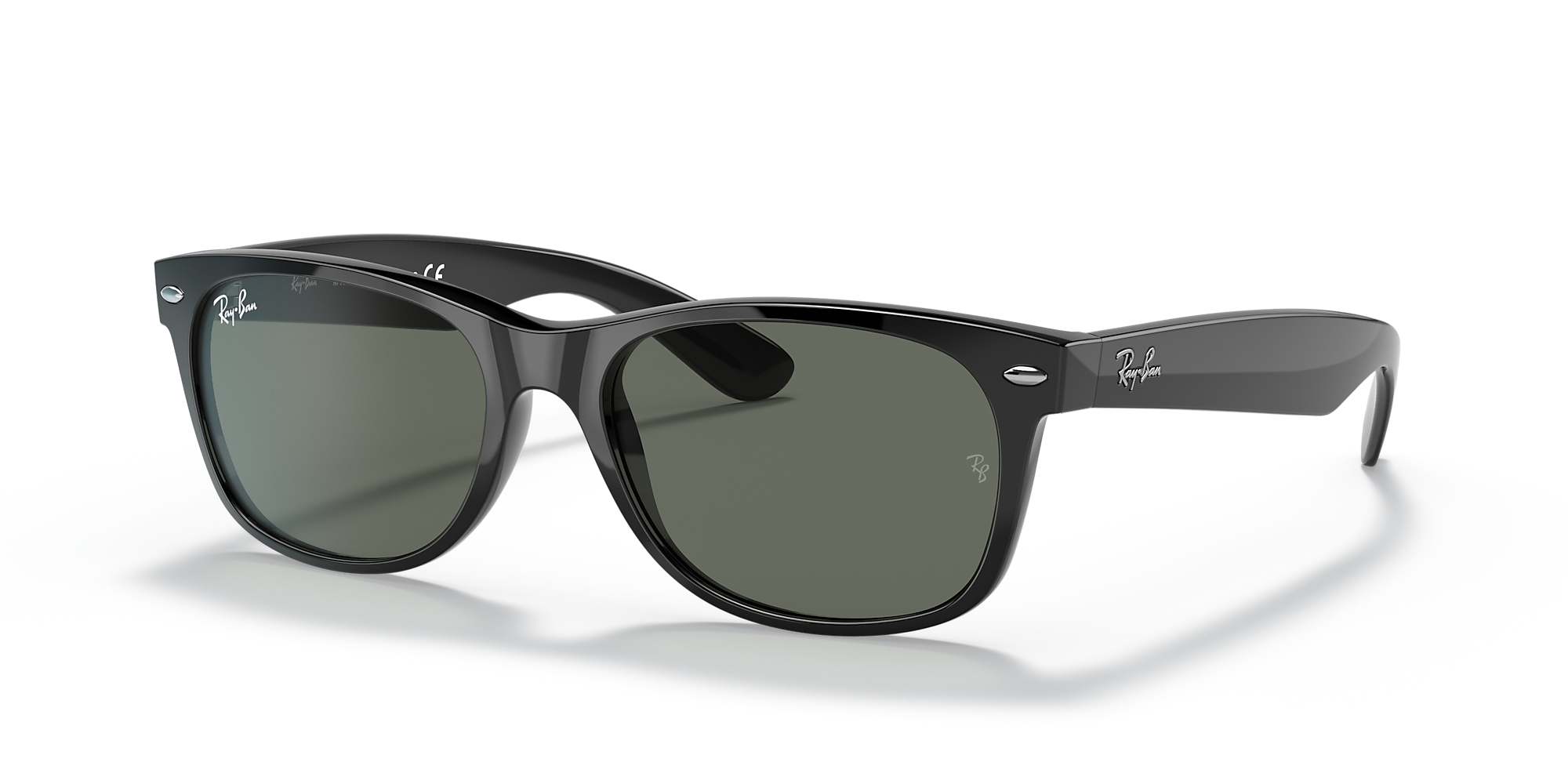 100% UV protection
Polarized lenses
Lightweight nylon frame
Comfortable square shape
Durable and long-lasting
Wayfarers are an excellent choice for bald men with oval faces. These sunglasses feature a classic, angular shape that nicely breaks up the natural smooth shape of an oval face.
These sunglasses come with slightly green lenses and a black frame, which just looks uber-cool. They're also comfortable – the high bridge fit makes them a pleasure to wear.
Budget option:
Again, there's no need to break the bank if designer shades aren't your thing. These Revolutti Wayfarer-style sunglasses give you the same look for less:
REVOLUTTI Wayfarer Polarized Sunglasses
100% UV400 protection
Polarized TAC lenses
Classic wayfarer frame
Lightweight plastic material
Best for heart-shaped (or triangular) faces
A broad forehead and a narrower chin create a vaguely triangular or heart shape. Again, we're working with angles, so choose round sunglasses to create contrast and soften the overall look of your face.
Persol PO2496S Sunglasses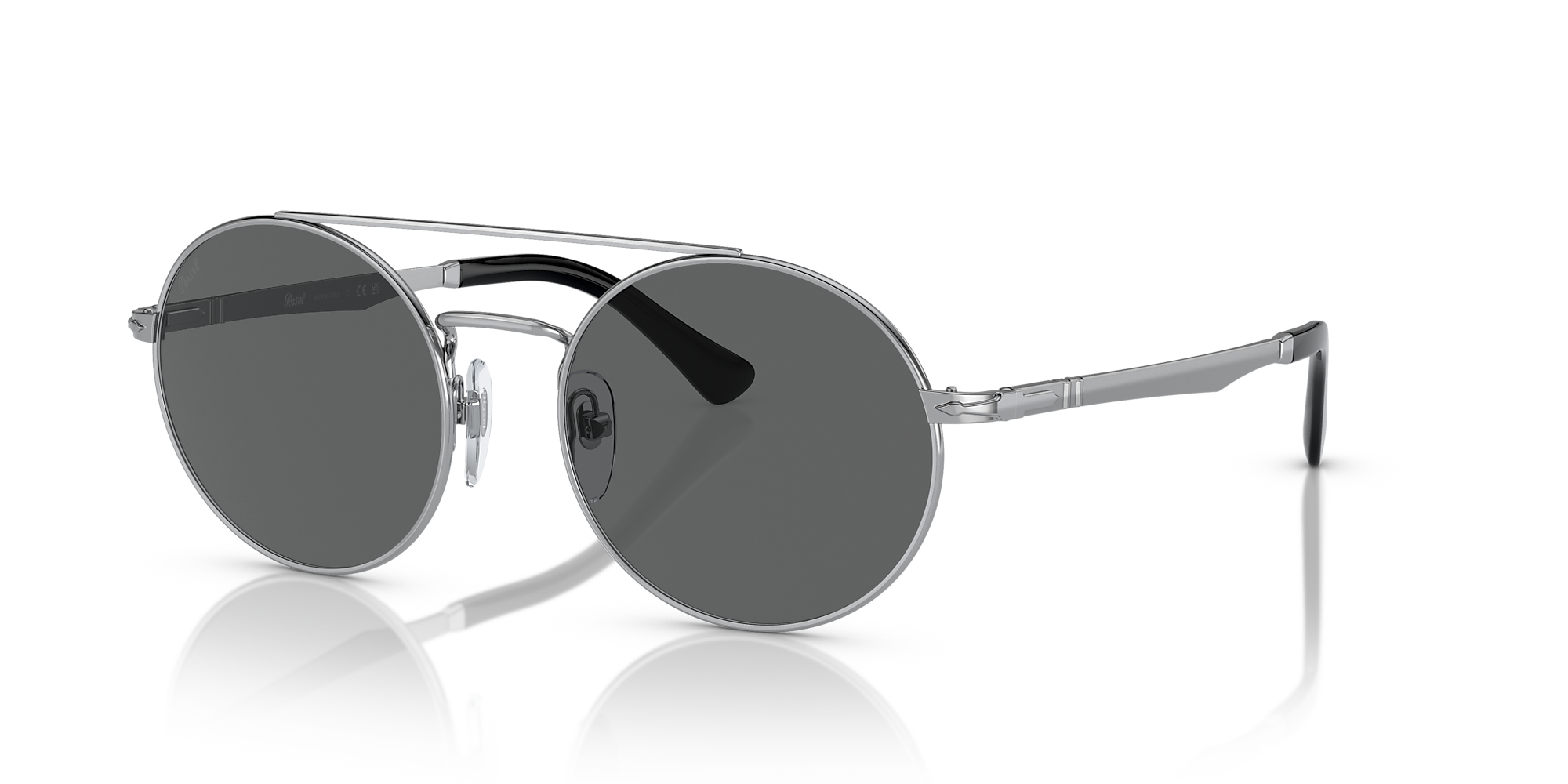 100% UV protection
Crystal-tempered lenses
Distortion-free vision
Patented Meflecto temples
Impeccable fit
Handmade in Italy
These round-framed Persol sunglasses feature a round shape that creates contrast and softens the angles of a triangular face.
The brand's patented Meflecto temples offer a secure fit, while crystal-tempered lenses provide protection and distortion-free vision.
Budget option:
If you don't want to shell out three figures for sunglasses, these SOJOS Round Polarized Sunglasses are a more wallet-friendly option:
SOJOS Round Polarized Sunglasses
UV400 lenses – 100% protection
Ultra-thin, light, strong stainless steel frames
Polarized lenses filter sunlight-reflected glare
If you have an inverse triangle-shaped face, where the jawline is wide and the forehead is narrower, shades with wider tops and thinner bottoms can help draw attention to the eyes and away from the jawline.
Frames that are wider at the bottom should be avoided as they can exaggerate the width of the jawline.
Best for diamond-shaped faces
With a narrow forehead and jawline but broad cheekbones, the diamond face shape is angular and unique.
The objective is to highlight the eyes and cheekbones, making it crucial to select sunglasses that enhance these features and complement the face's inherent angularity.
The curves of oval sunglasses can help to soften the angles of a diamond-shaped face, especially the cheekbones.
Arnette AN4263 Sunglasses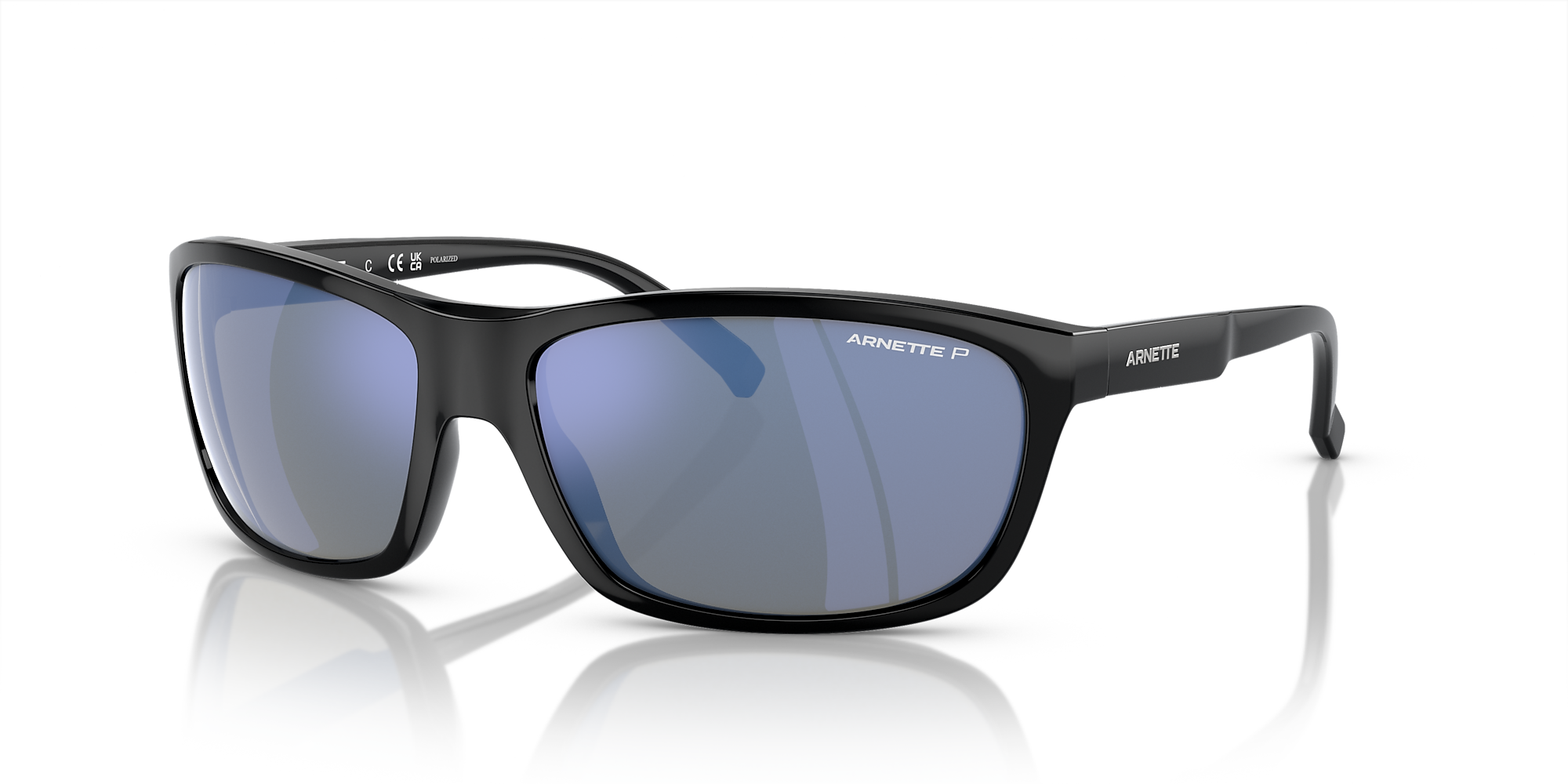 100% UV protection
Polarized lenses
Lightweight injected frame
Comfortable oval shape
Durable and long-lasting
These oval-shaped Arnette sunglasses feature a slightly curved, rectangular frame, which complements the angularity of a diamond-shaped face.
The broad structure of these sunglasses aligns well with the cheekbones, drawing attention to the eyes and enhancing the face's unique features.
The frames are made from lightweight, durable material, which ensures they're comfortable to wear as well as long-lasting. The polarized lenses provide excellent UV protection, and the black color goes well with any outfit.
Budget option:
As always, there's a more budget-friendly option if you're not willing to splash out nearly $100 on sunglasses:
JUDOO Oval Sunglasses
100% UV protection
Blocks glare effectively
Lightweight plastic frame
Retro style
Suitable for many outfits
What kind of sunglasses look good on bald guys? (What to look for)
To choose sunglasses as a bald guy, start by understanding your head shape. I covered this point in detail in my article about glasses for bald men. The principle here is the same:
As you can see above, what you're looking for is a shape for your sunnies that works well with the outline of your face and head.
If you have a round face, avoid choosing round sunglasses that will only exaggerate the shape of your face. Instead, opt for angular frames that add contrast and definition.
On the other hand, if you have a square face with sharp features, round sunglasses will soften those angles and create a more balanced look.
I've listed the common head shapes below and matched each one with a specific pair of sunglasses.
Other things to consider
Overall, choosing sunglasses as a bald man is much the same as for men with hair, but with much more emphasis on face and head shape.
Then there are other important things to consider.
Frame Color
Firstly, it's a good idea to use color to create a sense of contrast with your skin tone. Bald guys tend to have a lot of the same color going on without hair to provide that balance.
If you have a pale or medium skin tone, sunglasses are a great way to achieve this as they tend to have dark lenses. If you have dark skin, you can get creative with the color of your frames to achieve the same effect and make the sunglasses stand out as a feature of your face.
Protection
Protection against harmful UV rays is a key consideration when choosing sunglasses, as explained by Doctor Eye Health in this video:
Look for lenses that block 100% of both UVA and UVB rays.
Good sunglasses will have a UV rating – the higher the better. According to allaboutvision.com, if you see a pair labeled UV 400, you'll know that you're getting near 100% protection from harmful rays.
As well as protecting your eyes, sunglasses with UV protection can also help prevent wrinkles and fine lines around your eyes, which can be a concern for bald men.
Size
As well as face and head shape, you also need to consider the size and proportion of the sunglasses compared to your face.
Sunglasses that are too large or too small can create an unbalanced look, while sunglasses that are the right size can help enhance the features of the face and create a more polished appearance.
Style
Your personal style comes into play, too. If your dress sense is quirky and bold, you can choose sunglasses that work with this look. Again, experimenting with color is a great way to do this.
On the other hand, if you tend to go for a more understated appearance, then a pair of stylish Wayfarers or Aviators is a good choice.
Lens color
For starters, different lens colors can be better suited for different lighting conditions and activities. Gray or green lenses can reduce glare and provide true color perception, while yellow lenses are ideal for low-light conditions.
Material
Another important factor is the material of the frames:
Plastic: Common, lightweight, varies in durability.
Metal: Durable, can be heavier, many styles.
Wood: Unique, eco-friendly, might not be as durable as other materials.
Kevin's expert view
I asked Kevin for his general thoughts on selecting sunglasses for bald men:
To be honest it's the same for everyone. Good coverage and a flattering shape. For those with perfectly shaped heads that didn't need to be hidden with hair, I'd recommend something bold. Look, you're bald, so be POWER BALD! Lean into that perfectly shaped dome and get something that pops with color or design.
Jaques Marie Mage 'Enzo' Sunglasses
Luxury designer craftsmanship
Cured cellulose acetate frames
Recommended by eyewear expert Kevin Count
FAQs
Do sunglasses leave more noticeable tan lines on bald men? How can I prevent this?
Being bald might make tan lines from sunglasses slightly more noticeable. To prevent or reduce this, occasionally shift your sunglasses' position or remove them periodically. Using sunscreen can also help in preventing tan lines.
Are there specific colors or tints that are more flattering for sunglasses on bald heads?
Many bald men opt for darker tints or mirrored lenses to create contrast against their skin and scalp. Frame color should complement your skin tone, and lens color should suit the situation. For example, using red lenses while cycling in variable light conditions.
How often should I replace my sunglasses?
Sunglasses should be replaced every two years or if they show visible signs of wear and tear. This is because the UV protection can degrade over time, although this timeframe can vary.
Can I get prescription sunglasses in the styles recommended?
You can buy prescription sunglasses in the recommended styles like Aviators and Wayfarers. Always check with your optician or the sunglasses brand to ensure they can accommodate your prescription.
Is there a difference between men's and women's sunglasses styles?
There isn't much of a difference between men's and women's sunglasses. While some styles are marketed specifically towards men or women, sunglasses are largely unisex. The key is to find a style that suits your face and head shape, regardless of gender labeling.
How do I properly care for and clean my sunglasses?
To properly care for sunglasses, use a microfiber cloth to clean the lenses. Avoid using household cleaners or tissues, as these can scratch the lenses. When not in use, store your sunglasses in a protective case to prevent damage.
Can bald men wear mirrored or gradient lenses?
Bald men can wear mirrored or gradient sunglasses. The choice of lens style, whether mirrored, gradient, or standard, is more about personal preference and specific use (like driving) than about being bald. Choose what feels right for your style and needs.
Do certain frame materials last longer than others?
Some frame materials last longer than others. For instance, metal frames might be more durable than certain plastics but can also be heavier. You should consider both the material's longevity and comfort when choosing.
Summary
Ultimately, the best way to choose the right sunglasses as a bald man is to try on different styles and see which ones work best for your features and personal style.
If in doubt, stick to the classics. Aviators look great on most people, so chances are they'll work for you, too.
Of course, as a stylish bald guy, your sunglasses are just one element of your ensemble. Learn more about fashion for bald men to make sure your overall look is on point, and then check out my guide to how to look good bald.
Finally, a massive thanks to Kevin Count for his expert input into this article. Check out Kevin's work at Corner Optical at their official site.
We are sorry that this post was not useful for you!
Let us improve this post!
Tell us how we can improve this post?