If you suffer from dry skin on your scalp or the occasional bout of flakes, the best thing you can do is introduce an exfoliator into your bald head maintenance routine.
Maybe this is new and scary to you, or maybe you're fully on board with the need to maintain your melon and just looking for recommendations.
I've been shaving my head for nearly 20 years, and growing up in the 90s I was introduced to exfoliating scrubs at just the right age (we early millennials were quite the early adopters of this level of male grooming).
Now that I'm using it on my bald head, I've tested some of the best scrubs on the market to produce this list of the best exfoliators for a bald head. Hopefully, you'll find the right one for you:
What to look for in a bald head exfoliator
You can see my criteria for choosing a bald head scrub below:
Gentle exfoliation: Look for a scrub that provides gentle exfoliation suitable for the more sensitive skin on the scalp. Avoid harsh scrubs that may cause irritation or damage.
Non-abrasive particles: Ensure that the scrub contains non-abrasive particles or ingredients that won't scratch or harm the scalp. Avoid scrubs with large, rough particles that can cause discomfort.
Moisturizing properties: Look for a scrub that not only exfoliates but also hydrates the scalp. Moisturizing ingredients like aloe vera, shea butter, or natural oils can help maintain a healthy scalp and prevent dryness.
Scalp-friendly ingredients: Check the ingredient list for scalp-friendly ingredients such as tea tree oil, witch hazel, or salicylic acid. These can help address common scalp concerns like dandruff, itchiness, or buildup.
Natural or organic options: If you prefer natural or organic products, look for scrubs that are made from plant-based or organic ingredients. These can be milder on the scalp and less likely to contain harsh chemicals.
Scent and fragrance: Consider the scent or fragrance of the exfoliator scrub. Some like a manly or citrusy scent, while others prefer fragrance-free options, especially if they have a sensitive scalp.
pH-balanced formula: Ensure that the scrub is pH-balanced to maintain the natural acidity of the scalp. This helps to support a healthy scalp environment and prevent imbalances.
Dermatologist-tested or recommended: Look for products that have been dermatologist-tested or recommended, as they are more likely to be safe and effective for use on the scalp.
Quick Comparison
Best overall exfoliator for a bald head: Bald Brothers Smooth AF
Smooth AF Bald Head Exfoliate Scrub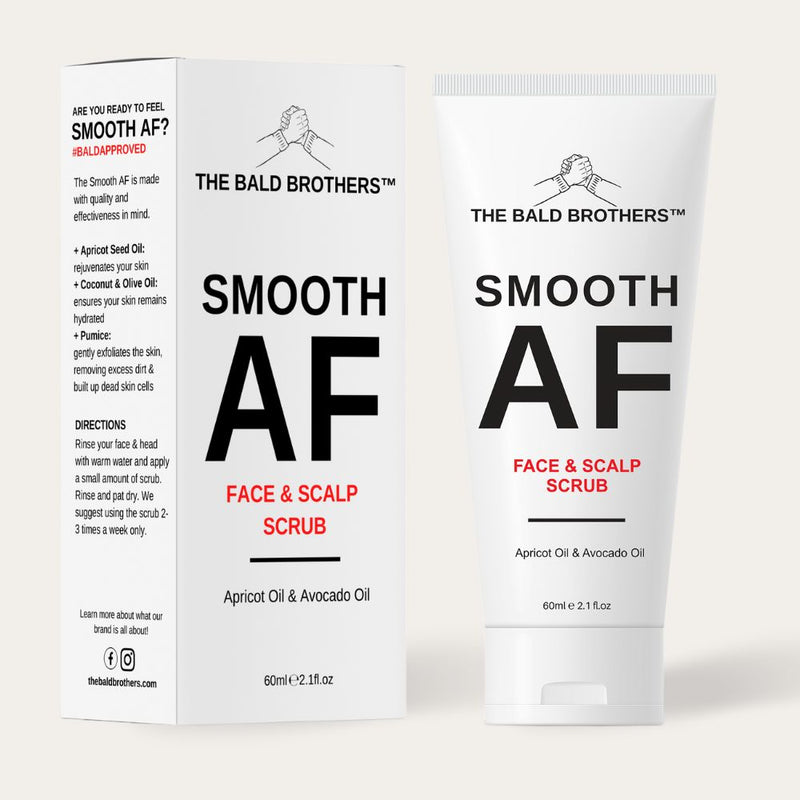 The Bald Brothers
20% off with code HAPPY20
Gently removes

dirt & dead skin

Ideal pre-shave treatment
Doubles as scalp & face cleanser
Bald Brothers Smooth AF Review
Why should you trust this review?
Expertise: I've been shaving my head for almost 20 years and this is the best scrub I've used
Experience: Unlike many online reviews, I've genuinely tested the product (images below are my own)
Pros
What sets the Bald Brothers range apart is that their products are made by bald guys, for bald guys. Too many products are pushed onto us by people who don't use them, whereas The Bald Brothers are just two guys who are passionate about producing products they're proud to put their name to.
It shows, too. Anyone who has experienced a harsh scrub will be familiar with how badly they can chop up your scalp, but Smooth AF is very gentle.
When I used the product for the first time, I could feel the pumice powder between my fingers, but it didn't feel like it was scratching my head like some of the rougher scrubs.
I really like the feeling of my scalp after using it. Imagine feeling super-confident that your bald head looks its best and is in the best possible health, with no dead skin cells or buildup of dirt, oil, and sweat to worry about.
Despite how gentle the scrub is, this is the pure clean feeling you get when you rub your hand over your freshly exfoliated head having just spent 30 seconds using this scrub.
I use Smooth AF as a pre-shave to make sure there's no buildup of dirt or dead skin cells clogging my blades and getting in the way of my shave. It's an important part of my maintenance routine (cleanse, exfoliate, shave, moisturize) and my head always feels healthy and clean after a scrub and shave.
It's also a good face scrub, especially if you're prone to blackheads around the nose like me. I can feel those annoying blocked pores before use, but afterward, they're always smooth again.
As with all good exfoliating scrubs, Smooth AF is hydrating, too. It contains natural ingredients like coconut oil, which has medium-chain fatty acids such as linoleic acid that traps water in the skin (source).
This means that, along with a good moisturizer, your scalp won't give you that awful dry feeling after your shower/shave.
For me, Smooth AF is the best exfoliator for a bald head because it ticks all the boxes I'm looking for. What's more, if you click the link above to The Bald Brothers' store and use the code HAPPY20 at checkout, you'll get 20% off.
Cons
One drawback with Smooth AF (as I found the first time I opened the lid!) is that it has quite a thin consistency – so be careful to hold the jar straight or it'll spill right out!
While I do think it gives the best result and is the most comfortable to use, it's also not the cheapest product on this list. If you're on a budget, scroll down to the next recommendation.
Best value-for-money: Bee Bald Scrub
Bee Bald is one of my favorite brands for bald guys, and their scrub is one of the best on the market for bald head exfoliation:
Bee Bald Scrub Exfoliating Pre-Shave
Cleans and removes pore-clogging dirt and oil
Removes dry, flaky skin
Conditions skin and lifts hair for a consistently superior shave
A small amount goes a long way!
Bee Bald's Exfoliating Pre-Shave Scrub is a scalp-cleansing solution that eliminates pore-clogging impurities and dead skin cells, leaving my scalp feeling revitalized and smooth.
I used it before I discovered Bald Brothers' scrub, but I'd still recommend it if my #1 pick isn't for you. Its active ingredient, walnut shell powder, minimizes the risk of ingrown hairs by removing dirt and dead skin cells.
Although it comes in a plastic tube instead of a glass jar, the product is cruelty-free and made with all-natural ingredients, making it both safe for my scalp and environmentally friendly.
Best pre-shave: HeadBlade Head Shed
HeadBlade Head Shed
Exfoliating action prepares your head for a smooth shave
Fine-ground walnuts shells get rid skin of dead skin cells that may cause ingrown hairs
Can be used on head, face, or body
HeadBlade's offering prepares your scalp for shaving by exfoliating the scalp, using ground-up walnut shells to lift away dead skin cells from the scalp's surface, creating a smoother and more prepared surface for shaving.
I'm a big fan of HeadBlade's shaving cream, and the Head Shed scrub is another winner. This exfoliating scrub is packed with a cocktail of natural ingredients like grapeseed, walnut, and shea butter.
The latter is rich in vitamins A and E, as well as essential fatty acids. These nutrients nourish the scalp, so you can rest assured your bald head will always look its best.
Head Shed isn't just a pre-shave cleanser; it's a valiant defender against the pesky skin foes we bald guys know all too well – ingrown hairs and dead skin cells. Regular use a couple of times a week will keep these enemies at bay.
Best for skin conditions: DōM CHRōM Skull Scrub
DōM CHRōM Skull Scrub
Sub Title
Specially formulated for bald skulls
Exfoliates and cleans before shaving
Nourishes while it scrubs for a closer shave
Noni fruit ingredient helps with skin conditions like eczema
For my money, DōM CHRōM is the coolest brand on the market, but it's more than just a pretty face.
This is a powerhouse formulation crafted specifically for bald skulls. If you want a clean shave and a deeply nourished scalp, this scrub delivers both in spades.
The inclusion of lava-born noni fruit delivers a potent punch against skin conditions such as eczema and acne. Its anti-inflammatory, anti-bacterial, and hydrating properties come from the very lava flows it thrives in.
The activated charcoal draws out impurities, toxins, and excess oils, leaving your skin smooth and prepared for a seamless shave. Take pleasure in the peace of mind knowing that your skin is not just clean, but also detoxified.
Immerse yourself in the skin-strengthening qualities of mint, rich in Vitamin A, which aids in reducing oil production and shields against UV damage. The refreshingly minty feel is a welcome bonus that serves as a morning pick-me-up.
Finally, embrace the anti-aging properties of green tea, which fights signs of aging, has potent antioxidant benefits, and fights sun damage and age spots.
Best for sensitive scalps: Viking Revolution Scrub
Viking Revolution Scrub
Deeply cleanses dirt and eliminates oil
Helps moisturize scalp
Works with oily, dry, and normal skin types
Helps condition skin against razor irritation for an easier shave
Another very cool brand, this may not be specifically made for bald heads but this gentle warrior uses natural ingredients to combat pigmentation, ingrown hair, and razor bumps.
It's armed with vitamin E, argan oil, coconut oil, sunflower seed oil, and sweet almond oil, ready to go to battle for your bald head. Not only does it help clean and exfoliate, but it also ensures your scalp stays moisturized and conditioned to handle the razor's blade.
So, you get a clean, fresh feeling that lasts all day, with the confidence that comes from a smoother, clearer scalp.
FAQs
Should I exfoliate my bald head?
All bald men should exfoliate their heads. By actively removing dead skin cells and unclogging pores, it contributes to the overall health and cleanliness of the scalp. A well-maintained scalp is not only more comfortable but also presents a fresher, brighter appearance.
What are the benefits of exfoliating a bald head?
Exfoliating a bald head offers a ton of benefits. It actively combats dryness and flakiness, preventing the buildup of dead skin cells. It also helps to ward off the formation of ingrown hairs and enhances the effectiveness of other scalp care products by allowing them to better penetrate the skin.
How should men exfoliate their bald head?
To effectively exfoliate a bald head, a scrub specifically designed for the task should be applied to a wet scalp. Gentle, circular massaging ensures the scrub reaches all areas, after which it can be rinsed off. To complete the process, apply a moisturizer to nourish and hydrate the scalp.
How often should you exfoliate your bald head?
Avoid exfoliating your bald head more than 1-2 times per week. This provides ample opportunity to remove dead skin cells and unclog pores without leading to over-exfoliation, which can cause irritation and dryness. In between exfoliating days, gently remove excess dirt with a washcloth in the shower.
Summary
Maybe exfoliating sounds too metrosexual for you, or you thought only women bothered with scrubs and exfoliants.
In that case, you're missing out on a key element of a solid bald head maintenance routine.
Do you know what's not manly? Dry, patchy flakes of skin escaping from a bald head, discolored areas of the scalp, or even a nasty smell emanating from a dirty dome.
Up your bald head care game, and maintain your melon better by introducing an exfoliator to your regime.
When you're done, make sure you're using moisturizer to keep your bald head looking and feeling its best. Here's my guide to the best moisturizer for a bald head to help you choose.
Are you exfoliating your bald head? If so, what product are you using? If I missed your favorite, let me know in the comments below.
We are sorry that this post was not useful for you!
Let us improve this post!
Tell us how we can improve this post?