If you've stumbled across Bald Boss, you're probably wondering if it's actually any good, or just another product being marketed at bald guys.
Well, the good news is that I've tested the product, and listed all the key features, pros and cons, and my honest opinion of this bald head moisturizer below.
Bald Boss Moisturizer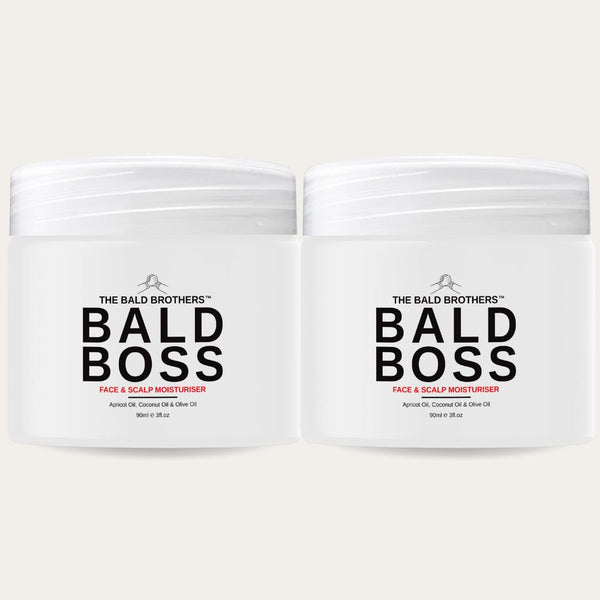 The Bald Brothers
20% off with code HAPPY20
Hydrates & soothes scalp
Prevents dryness/itchiness
Non-greasy
Smells amazing!
Why should you trust this review?
Expertise: I've been shaving my head for almost 20 years and this is the best moisturizer I've used
Experience: Unlike many online reviews, I've genuinely tested the product (images below are my own)
Independent: I have not been paid to write this review
Is it any good?
When I use a moisturizer on my head, I'm looking for something that hydrates well, is fast absorbing, and doesn't leave a greasy residue afterward.
Bald Boss ticks all those boxes and more, so it's become my go-to moisturizer.
While I'd definitely recommend it, I've detailed the pros and cons below so you can decide if it's for you.
Pros
Hydrating
First and foremost, Bald Boss does what a bald head moisturizer should do. It hydrates your scalp fantastically well, especially after a shave.
I like to wet-shave my head in the shower, and the combination of hot water and a sharp razor can leave it feeling super dry.
A dry scalp can become patchy and flaky, and nobody needs that. As bald guys, our scalps are noticeable and I want mine to look its best all the time.
You can reduce this dehydration with the right pre-shave exfoliator, shampoo, and shaving cream, but inevitably you're going to need to reach for the moisturizer when you step out of the shower.
There are times when the skin on my head feels like a desert floor, and the tightness I feel in my scalp is instantly relieved by a good moisturizer.
Bald Boss leaves my scalp feeling refreshed, and that awful feeling of dehydration is gone for the rest of the day. Even on days when I don't shave, I always use Bald Boss after my shower, because even washing with hot water alone can dry out your scalp.
Fast-absorbing
When I'm using a moisturizer, I don't want to spend any longer than necessary rubbing it into my head.
This is especially true when I've just shaved. I'm looking for instant relief from dehydration, and when I've just scraped away at my skin with a razor, I don't want to spend any longer than needed rubbing my sensitive scalp.
Bald Boss soaked into my bald head like water into a sponge, which gives fast relief to my dried-out scalp.
And as a bonus, my hands have been moisturized too. With other moisturizers, I've had to wash my hands afterward, but I don't find that's needed with Bald Boss as the consistency works as a hand lotion, too.
This leads to my next point:
Non-greasy
Bald Boss gives your scalp relief from dryness without leaving you feeling like a greased-up chicken! It's light and non-greasy, which is a big plus for me.
I've used moisturizers that leave a greasy film on my scalp for hours after applying, which I'm not a fan of at all. With Bald Boss, my scalp feels like it's been moisturized, but the lotion feels like it's soaked into my scalp rather than just sitting on the top.
Scent
The very first thing I noticed about Bald Boss was the scent, which I quickly became obsessed with!
The moisturizer smells quite citrusy to me, and there are fruit extracts like apricot kernel oil and coconut oil used in the ingredients, which probably explains it.
It's not overpowering, but I must admit I kept smelling my hands afterward and even made my wife sniff my head when I first used it. Luckily she approved!
While I see this as a big positive, Bald Boss probably isn't for you if you prefer an unscented moisturizer for your scalp. You'll find plenty of options in this article about the best moisturizers for bald heads.
Natural ingredients
Bald Brothers have used all-natural ingredients to create Bald Boss, which is really reassuring. Gone are the days when people were happy to accept nasty chemicals in their products, and it's great to see ingredients like grapeseed and jojoba oil used to put this stuff together.
I looked into some of the ingredients and it was great to understand some of the benefits.
For example, apricot kernel oil provides hydration, anti-aging effects, and anti-inflammatory benefits. Meanwhile, olive oil offers antioxidant protection, soothing inflammation, and strengthening the skin barrier
Lots of natural oils are beneficial for a bald head, so it's great to see so many crammed into a jar of Bald Boss.
100% vegan
While I'm not vegan myself, it's good to know that no animal products are being used to make me feel better.
I'm not a fan of cosmetics that use animal products or are tested on animals, so knowing Bald Boss is vegan is another plus point.
Eco-friendly
I always like to know that I'm helping the environment when choosing cosmetic products (which is why I've just switched to plastic-free shaving with the Leaf Razor).
So the fact that Bald Boss comes in a recyclable glass jar is just another reason to love the product. If I can take care of my scalp and the environment at the same time, that's great.
Cons
No SPF protection
If there's one thing I'd change about Bald Boss, I'd love it to give SPF protection.
Before switching to Bald Boss I was using Bee Bald's Smooth daily moisturizer which has SPF30. It's a little thicker and greasier than Bald Boss (which is why I switched), but if you need sun protection from your moisturizer, this might be a better option for you.
Does Bald Boss offer value for money?
While it's a bit pricier than some products, I think Bald Boss is worth every penny.
There are cheaper products on the market, but what I look for are products designed specifically for bald heads that do a good job, without making me pay over the odds. The fact that a little goes a long way also means you can stretch the 2.1 fl oz jar for longer than you'd expect.
Bald Boss ticks these boxes for me. I've tried a lot of moisturizers in the near-20 years I've been shaving my head, and this is my favorite. It's no surprise that it's created by bald guys, for bald guys, as you can tell that a lot of care went into making sure it ticked all the right boxes.
Summary
The Bald Brothers have created a fantastic product here. If you're looking for a great-smelling, fast-absorbing, non-greasy scalp moisturizer that hydrates and refreshes your bald head, this is it.
I've actually noticed a difference in how healthy my scalp feels since using Bald Boss, and a colleague even asked what my skin routine was (maybe sarcastically, but I'll take it!)
Let's be honest, if budget is the main factor in your decision, Bald Boss won't be top of your list.
However, Bald Boss offers a lot for the price, and if you're still not convinced, then you can click the link below to buy your own (with sexy new packaging!).
If you buy direct from TheBaldBrothers.com you can use the code HAPPY20 for 20% off:
Bald Boss Moisturizer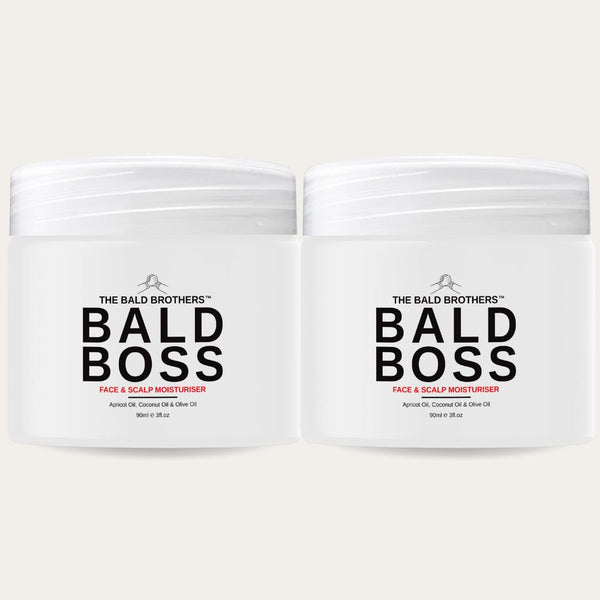 The Bald Brothers
20% off with code HAPPY20
Hydrates & soothes scalp
Prevents dryness/itchiness
Non-greasy
Smells amazing!
We are sorry that this post was not useful for you!
Let us improve this post!
Tell us how we can improve this post?