Whether you're a fashion-conscious bald guy who is looking to level up his wardrobe, or a newly hairless gent who wants to look good bald, there are a few golden rules to follow.
I've been shaving my head for nearly 20 years, and while I've committed my fair share of fashion crimes, I've tried to incorporate as many of the following guidelines into my dress sense as possible.
Fashion tips for bald men
Wear colors that contrast your skin tone
Pay attention to necklines that flatter your face shape.
Bald heads can look shorter and wider, but the right collar (e.g. spread collars) can help to elongate the face.
Bold patterns and prints can balance out a plain-looking bald head.
Well-fitting clothes will help maintain a sense of proportion in a bald man's overall appearance.
Choose fabrics that drape well and are not too heavy, as they can add bulk and detract from the overall appearance.
Consider adding accessories such as hats, scarves, and the right pair of sunglasses for bald men to help frame the face.
Confidence is key – choose clothes that make you feel good to overcome any self-consciousness about your hair loss.
1. What colors look best on bald men?
Hair can add contrast to your face – whether that's dark hair against pale skin, or blonde hair with darker skin tones.
Baldness takes that contrast away, so dress your upper body in a way that re-introduces that distinction to your skin color.
If you have pale skin, wearing dark-colored clothing such as black, navy, or dark gray immediately restores that contrast. These dark colors provide a point of difference against light skin, which works especially well with formal or business attire.
If you have a medium skin tone, colors such as olive green, beige, and earth tones like brown and rust can work well. These colors can help to balance out the skin tone and create a harmonious look.
Finally, if you have dark skin, you can take advantage of the rich undertones by wearing light and bright colors that complement your skin. Colors like white, pastel pink, and light blue can help to highlight your skin and create a striking contrast. Additionally, bold and bright colors such as red and yellow can also work well and add a pop of color to your outfit.
Of course, while we're looking for contrast, a beard is a great way to achieve this (especially against pale skin). A full beard looks fantastic when blended into a bald or shaved head, but if you want to try something different, check out this guide to the best goatee styles for bald men.
In general, it's important to remember that not all colors work well with every skin tone and hair color, so it may take some trial and error to find the right colors for you.
2. V-shaped necklines
For bald men, necklines are important because they can help to elongate the face and neck, creating a more balanced and flattering appearance. V-necks, for example, can draw the eye downwards and create a more proportional look.
By contrast, round-neck t-shirts, for example, exaggerate the roundness of a bald head which is not flattering.
3. Spread collars
For bald men, elongating the face is important because it helps to create a more balanced and proportional appearance. A bald head can sometimes make the face appear shorter and wider, so it's important to find ways to counteract this effect.
One way to do this is by using collars that help to elongate the face, such as spread collars. These are the collars where the corners point out more to the side, while a point collar points almost straight down.
Any love for Stanley Tucci?
Point collars may suit a round face better, but for most bald men, spread collars are better as they create a wide V-shape that draws the eye downward, making the face appear longer and slimmer.
This can help to create a more flattering and proportional look, especially for bald men who may be concerned about the appearance of their face and neck.
Hugo Boss Spread Collar Dress Shirt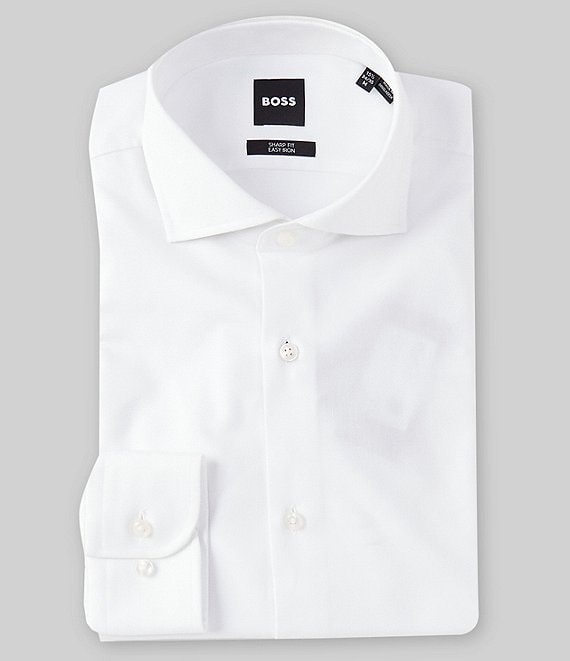 Spread collar
Stretch twill fabric
Long sleeves with round cuffs
Button front closure
Cotton/elastane
Machine wash/tumble dry
4. Patterns and Prints
Bold patterns and prints can help to draw attention away from a bald head and add interest to an outfit. However, it's important not to overdo it as too much pattern can be overwhelming and detract from the overall appearance.
If you're not an overly confident dresser, something even slightly daring like a floral or patterned shirt can feel like a brave step.
However, it's a lot easier to try something a little more 'out there' on vacation, so test out a new look when you're at the beach or out for the evening.
5. Slim fit
An ill-fitting outfit can detract from the overall appearance and make you look sloppy. Making sure your clothes fit well can help to create a polished, put-together look.
You're looking for clothes that contour your physique without looking like a latex superhero outfit. Baggy or loose-fitting clothes on the upper body will make your shaved head look disproportionately small thanks to your lack of hair.
Stick with tops that are fitted, but not too tight. Even if you have the physique for it, nobody likes a show-off, so ditch the spray-on muscle-fit shirts.
Of course, if you have a particularly large head, tight-fitting clothing will exaggerate this. Add layers to your outfit to bulk out your upper body without suffering the untidy appearance of baggy sweaters and jackets.
When it comes to trousers, make sure they're not too long. Slim fit is ideal, but avoid anything overly skinny. Spray-on jeans only work with a very specific image, so play it safe and go somewhere in the middle.
Jason Statham is a regular go-to style icon for bald men. His outfits are usually perfectly fitted – not too tight, but no loose, baggy items either.
6. Avoid heavy fabrics
The choice of fabric is important for bald men. Heavy fabrics can add unnecessary bulk, again making your shaved head look disproportionately small.
Choosing lighter, draping fabrics can help to create a more streamlined look and flatter the face and neck.
7. Accessorize
Accessories can be especially important for bald men as they can help to frame the face and balance out the lack of hair on an otherwise plain-looking bald head.
For example, hats, scarves, and glasses draw attention to the face and neck, creating a more balanced look.
We're not talking about any old hat, however. If you're reaching for the fedora, maybe take a moment to read this guide to the best hats for bald men.
8. Confidence is everything
Confidence is important for all men, but especially for bald men as it can help to counteract any insecurities about their appearance.
Hair loss is a great excuse to try out new looks and style choices. Grow a beard, change up your wardrobe, and even get a tattoo if you think it will boost your confidence in your appearance.
Feeling good about the way you look is important to help you pull off your personal style. Choosing a look that makes you feel confident and comfortable is more important than the individual clothes you buy.
Let's take a look at some specific items of clothing and how bald men should choose each one:
Suits
As mentioned above, the right formal and business wear looks great on a bald man. Thanks to Reddit user u/jnhforreal for this post, which perfectly outlines the key principles for a bald man's suit:
"Suits have to be worn by many men for work or formal occasions and I also know that they can look amazing and powerful on a bald guy."
The advice here is to go for either a black, dark gray or navy blue suit (or one of each color if you have to wear suits often) that fits well. Pair the suit with a nice white dress shirt and some black leather shoes.
Calvin Klein Men's Slim Fit Suit
Imported
Button closure
Dry Clean Only
Customize your jacket and pant size – select your sizes and add them to the cart separately
The pant is designed to lay lower on the hips and is nicely tapered from the thigh to a bottom opening for a modern look
Classic 100% performance wool fabric – easy to wear in any climate all year round
Trousers
While the upper body is the most important area for a bald man specifically, the trousers are arguably the most important item of clothing for an outfit in general.
Again, fit is important. As mentioned above, go for the happy medium between too tight and too baggy. Choosing the right length is key – too long and they'll ruffle at the ankles. A single crease is fine but the leg should rest just on top of the shoe.
Jeans are fine with a more casual outfit, but for general wear go for a lightweight pair of trousers, like chinos. Again, look for contrast, pairing darker trousers with a lighter top or vice versa.
Mens Slim Fit Chinos
97% cotton
Imported
Button and zipper closure
Machine wash
Eco-friendly and comfortable
Ideal for leisure and outdoor activities, casual wear, business, travel, hiking, climbing, work, and daily wear.
Jackets
When choosing a jacket as a bald man, color and fit should follow the guidelines above. Again, avoid anything too bulky that will exaggerate the fact that having no hair makes your head look smaller.
Otherwise, personal style and body shape are the two most important factors to consider when choosing a jacket. Some jacket styles that can look good on bald men include:
Leather jackets: a timeless choice that generally comes in darker colors to complement a bald man with lighter skin
Bomber jackets: great for a smart-casual look, especially in neutral colors such as black, navy or olive
Denim jackets: it's not a crime to go for double-denim, but as ever go for contrasting colors against your t-shirt and skin tone
Blazer: a great option for a formal look, not too bulky and can even be paired with jeans
Harrington jackets: a preppy look that's a good option for cooler weather, where a stylish flat cap will help keep your bald head warm and complement your outfit
Spirit of England Harrington Jacket
Imported

Machine wash

Heavy Twill Quality
Versatile
Regardless of being bald or not, the key is to choose a jacket that flatters your body shape and complements your personal style.
Sweaters
Yes, bald men look good in turtlenecks. This sweater style basically includes a built-in scarf, which we've agreed is a good thing to add detail in the absence of hair.
But beyond the turtleneck, follow the same principles discussed above. Go for colors that contrast your skin tone, and avoid anything too bulky (makes your bald head look small) or baggy (makes your outfit look untidy).
Men's Slim Fit Crew Neck Sweater
Imported
Machine wash
Premuim lightweight cotton knitted fabric
Easy to wear with button up shirts for a dressy style, or match with jeans for a casual look.
Sweaters are a great way to add layers to your outfit. A crew neck can be paired with a polo or dress shirt, while a hooded sweater can work well underneath a leather jacket or over a regular t-shirt.
Summary
Fashion for bald men isn't defined by a single look. Finding your own style is the key to looking good bald.
Haircuts can box us into a specific style, but losing your hair frees you up to change up your image and be whoever you want to be.
You can be the stylish bald gent with a neat beard, layered in smart shirts and jackets with a fetching pocket square. Or, you can go for a more grunge look, with tattoos and a beard complimented by a well-fitting t-shirt and slim-fit, distressed jeans.
As long as you dress your age (!) anything goes.
Whatever style you choose, remember the core principles above. Use color, fit, and accessories to complement your bald head, but most importantly choose a style that makes you feel comfortable and confident in your own skin.
We are sorry that this post was not useful for you!
Let us improve this post!
Tell us how we can improve this post?