Looking to elevate your bald head care routine with a top-notch exfoliating scrub? You're probably here because you're either ready to start exfoliating or searching for a superior alternative to your current, less effective scrub.
As a bald man with over 20 years of head-shaving experience, I've navigated the challenges of maintaining a healthy, smooth scalp. I know the struggle: dealing with dullness, buildup of dead skin, and the dreaded shaving irritation.
That's why, as part of the bald brotherhood, I'm here to share my insights on HeadBlade HeadShed.
Quick Takeaways
Effectiveness: ⭐⭐⭐⭐⭐
Ease of Use: ⭐⭐⭐⭐⭐
Value for Money: ⭐⭐⭐⭐
Overall Rating (Average: 4.7): ⭐⭐⭐⭐⭐
If you're new to exfoliating or unsatisfied with your current scrub, HeadShed is a great choice. Its effectiveness and gentle nature make it a top contender for those looking to upgrade their head care routine.
HeadBlade HeadShed Exfoliating Scrub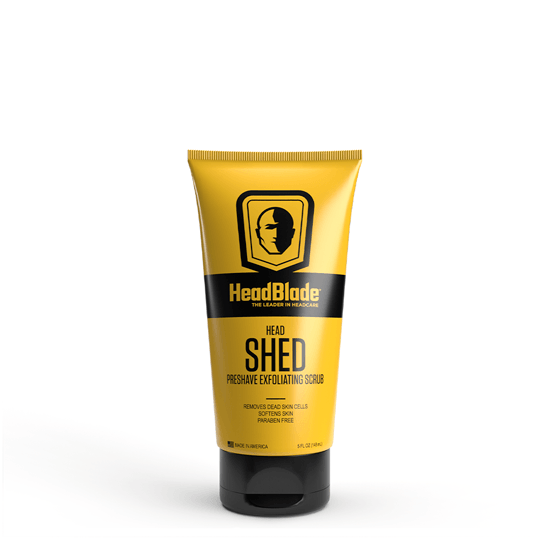 Prepares for Smooth Shaving
Removes Dirt, Oil, Dead Skin
Prevents Razor Clogging
Gentle Yet Effective
Easy, Comfortable Use
10% off with code BaldandHappy
First Impressions
My journey with HeadShed Scrub began out of my long-standing trust in HeadBlade as a brand. I've used the HeadBlade Moto razor (easily the most user-friendly bald head razor on the market) and recently reviewed their ClearHead aftershave lotion.
So when I decided to look for a new exfoliating scrub, I jumped at the chance to check out HeadBlade's offering.
The packaging feels premium, with a rubbery texture that ensures a good grip and easy dispensing. The brown color initially caught me off-guard as the first thing I thought of was soil. But trust me, don't let the color fool you; it's what's inside that counts.
The scent is so subtle that I wouldn't have detected 'cookie dough and cocoa butter' without reading it on the bottle. It's understated, but scent isn't what I'm really looking for in an exfoliator. Here's what you do need to know:
| Pros | Cons |
| --- | --- |
| ✅ Excellent pre-shave treatment | ❌ Might be too abrasive for sensitive skin (see below) |
| ✅ Efficiently removes dirt, oil, and dead skin | |
| ✅ Ensures smooth razor glide and close shave | |
| ✅ Prevents blade clogging and irritation | |
Not Recommended for Sensitive Skin
If you have sensitive skin, I'd steer clear of scrubs altogether and go for a chemical exfoliator like Freebird's exfoliating lotion instead. Always remember to do a patch test with new products.
Regarding other scalp health considerations like dryness or flakiness, I haven't suffered from these issues, so I can't comment on whether HeadShed helps relieve them. My focus is more on using the product as part of a pre-shave ritual than treating scalp conditions.
Key Features and Benefits
Effective exfoliation
What sets HeadShed apart is its superior texture and effectiveness. With 20 years of experience in scalp care under my belt, I've used my fair share of exfoliators and scrubs.
Having exfoliated regularly for so long, I don't expect drastic changes in my scalp's condition. However, if you're new to head scrubs, you'll notice the difference right away.
The real value of HeadShed is its finely ground walnut shells. Unlike scrubs with larger microbeads and exfoliating ingredients that feel abrasive, HeadShed offers a comfortable, effective exfoliation, ensuring no harm to your scalp.
Texture
The texture is better than anything else I've used – rich, buttery, yet filled with those finely ground walnut shells for exfoliation. You'll notice how generous they've been with the concentration of the ground walnut shells, making the scrub feel premium right away.
Ideal Pre-Shave Treatment
I wholeheartedly recommend HeadShed to bald men who use razors or head shavers, especially as a pre-shave treatment. I actually recommended HeadShed as the best pre-shave scrub in my list of the best bald head exfoliators.
The scrub ensures your blade has a clean, smooth surface to work with, leading to a closer and more comfortable shave.
This is crucial as it minimizes the risk of nicks and cuts, reduces skin irritation, and allows for a more efficient shave with fewer strokes, ultimately preserving the longevity of your razor blades. If you're using an electric head shaver, you don't want those blades being clogged up with dead skin and dirt, either.
I shave my head 2-3 times per week, so I only ever use a scalp scrub before shaving. Exfoliate any more frequently than this, and you risk damaging the new skin exposed from your previous exfoliation.
But if you only shave once a week, you don't need to wait until your next shave – use HeadShed in between as part of your scalp care routine.
Easy to use
HeadShed's bottle is very user-friendly. The design is practical, and the product dispenses easily, allowing for controlled application.
When I reviewed another HeadBlade product, ClearHead aftershave lotion, I noted that the product was easily spilled due to how easily it is to squeeze out too much at the wrong time, but there are no such problems with HeadShed.
Ingredients
| Ingredient | Explanation/Benefit |
| --- | --- |
| Methylchloroisothiazolinone | A preservative to maintain product shelf life and prevent spoilage |
| Water | Base for the scrub, dissolves other ingredients |
| Sodium Trideceth Sulfate | A cleansing agent that helps create lather and remove oils and dirt |
| Sodium Lauroamphoacetate | A mild surfactant, helps cleanse the skin without stripping it of moisture |
| Polyethylene | Often used as a texture agent in scrubs for smooth application |
| Juglans Regia Shell Powder (Walnut) | Gentle exfoliation, removes dead skin cells |
| Butyrospermum Parkii (Shea Butter) Extract | Moisturizes and nourishes the skin |
| Sodium Chloride | Commonly used as a thickening agent in personal care products |
| Cocamide MEA | A foaming agent that helps increase the product's viscosity |
| Vitis Vinifera (Grape) Seed Extract | Antioxidant properties, promotes scalp health |
| Petrolatum | Moisturizes and protects skin |
| Guar Hydroxypropyltrimonium Chloride | Conditions the skin and improves product texture |
| Citric Acid | Balances pH, can help in exfoliation |
| Cyamopsis Tetragonoloba (Guar Gum) | Thickening agent, enhances product texture |
| Fragrance (Parfum) | Adds scent to the product |
| Copernicia Cerifera (Carnauba) Wax | Adds texture and moisturizes |
| Beeswax (Apis Mellifera) | Moisturizes and helps retain moisture |
| Methylisothiazolinone | Preservative used to prevent microbial growth in the product |
Value for Money
At around $13 for a 5 fl oz bottle, HeadShed sits comfortably in the mid-range price bracket. Its effectiveness and overall quality make it a product that offers great value for money.
There aren't specific storage instructions to extend the lifespan, but like any cosmetic product, keeping it out of direct sunlight is wise. I store mine in the shower for convenience, making it easily accessible for my head washing and shaving routine.
Pro Tips
A pea-sized amount is all you need, but pay special attention to the back and sides.
If you're bald on top with hair still growing in these areas, it's tempting to prioritize the top of your head where most people will be looking, especially if you like a shiny bald head.
Avoid the temptation to only focus on the top of your dome. Instead, rub the scrub between your hands and apply evenly across your scalp, not just the top. This ensures your razor gets a clean, smooth surface for shaving where there's still thick hair growth.
FAQs
Can HeadShed Scrub be used daily?
HeadShed Scrub is designed for effective exfoliation but should be used sparingly. Daily use isn't recommended as over-exfoliation can lead to skin irritation. Using it 2-3 times a week, particularly before shaving, is optimal for the best results.
Is HeadShed suitable for women?
While HeadShed is targeted at men with bald heads, women can also use it for gentle exfoliation. Its effective formula works well on various skin types, making it a versatile choice for anyone looking for a reliable exfoliating scrub.
Can this scrub help with ingrown hairs?
HeadShed Scrub can help in preventing ingrown hairs. Regular exfoliation with HeadShed clears away dead skin cells and debris, which can otherwise clog hair follicles and lead to ingrown hairs, especially in areas shaved frequently.
Does the scrub leave any residue?
HeadShed Scrub is formulated to rinse off cleanly without leaving any residue. Its effective yet gentle exfoliating particles are designed to be washed away easily, leaving your skin smooth and free from any leftover product.
The Verdict
HeadShed is the most effective scrub I've used to exfoliate my scalp. As someone who's been shaving my head for 20 years, I've tried countless products. HeadShed Scrub, with its fine walnut shell exfoliants and buttery texture, stands out as the best.
It's not just a pre-shave treatment, either – HeadShed works well as part of a general scalp care routine. The thoughtful packaging, subtle scent, and well-balanced formulation all contribute to a product that I'd recommend to any bald guy looking to level up their grooming game.
In conclusion, HeadShed Scrub by HeadBlade is my top pick for anyone looking to keep their scalp free from buildup of oil, dirt, and sweat, especially as a pre-shave to ensure a close, comfortable head shave.
Bonus: If you buy from the official site you can get 10% off with the code BaldandHappy
HeadBlade HeadShed Exfoliating Scrub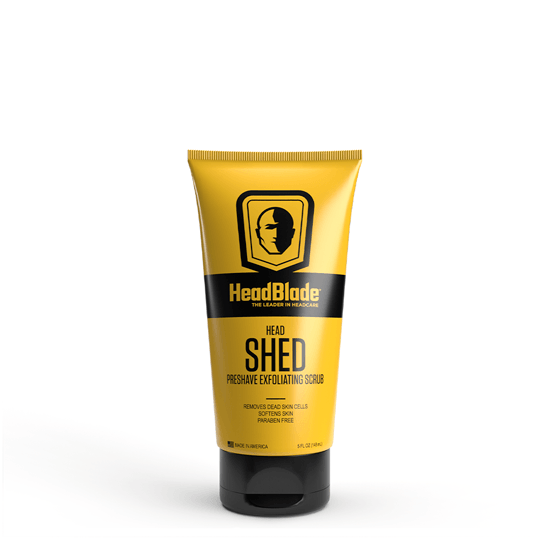 Prepares for Smooth Shaving
Removes Dirt, Oil, Dead Skin
Prevents Razor Clogging
Gentle Yet Effective
Easy, Comfortable Use
10% off with code BaldandHappy
Now you've taken care of your pre-shave routine, check out this list of moisturizers for your bald head to make sure your scalp is hydrated and healthy post-shave.
We are sorry that this post was not useful for you!
Let us improve this post!
Tell us how we can improve this post?