It may come as a surprise, but anyone with a bald head should be exfoliating their scalp. Exfoliating a bald head is the best way to keep it clean and healthy.
Why should you exfoliate your bald head?
Bald men should exfoliate their heads to remove dead skin and built-up dirt, oil, and sweat. If your scalp isn't properly maintained, this layer of grime gives an unhealthy, dull appearance and causes friction while shaving. It can also get quite smelly in some cases.
The scalp contains glands called sebaceous glands, which secrete a compound of natural oils called sebum. This is designed to lubricate and protect the skin, especially when dry.
A dry scalp is a bald man's worst enemy. Using soap and other cleaning products dries the scalp and causes flaky skin on your bald head. Sebum is secreted in greater quantities, and this creates a dull, oily look.
Sebum is part of your skin's natural defenses but it needs to be kept under control. Regular exfoliation and moisturizing make sure your scalp doesn't need to produce too much, so your head maintains a clean, healthy appearance.
For those of us who like a shiny bald head, exfoliating helps get this glossy finish. All that dead skin and dirt gives a dull appearance – exfoliating lets your bald light shine bright.
Yes, it's a lot of upkeep, and the maintenance routine is one of the disadvantages of shaving your head. But there are plenty of benefits to shaving, too – at least you never have to go to the barber, right?
How often should you exfoliate your bald head?
If you're just using a wet cloth in the shower you can gently exfoliate daily, just as you'd clean the rest of your body every day. If you're using a specialist scrub or other exfoliating product, reduce the frequency to around twice a week.
This will make sure you don't damage the scalp by scrubbing at newer, more sensitive skin. It takes time for dead skin cells to build up on your scalp, so there's no need to vigorously scrub away at your bald head on a daily basis.
Should you exfoliate before or after shaving your head?
Always exfoliate before shaving to remove dead skin and reduce friction. This will soften the hair, and the clean surface will allow the blade to cut closer to the scalp. You should also experience less irritation when shaving against the grain for a closer finish.
I shave my head 2-3 times a week. This is because I'm around a 6 on the Norwood Scale (see below) and I like to keep my hair as short as possible.
This avoids the contrast between the bald areas and what's left of my hair on the sides, which contributes to an uneven skin tone on my bald head. If you're closer to a 3 or 4, you might only want to shave your head once a week or less.
This is fine, and with this amount of hair, you should be shampooing as normal anyway. Try to exfoliate your head when your hair is shorter, as this will make it easier to access and fully clean your scalp.
Will exfoliating make me lose my hair faster?
Exfoliating your scalp can actually help keep hair follicles healthy and reduce hair loss. However, exfoliating too vigorously or too often can damage hair follicles and increase hair loss, so it's important to get the balance right to keep your scalp and hair healthy.
Dr Sue Ann Chan, the resident dermatologist at Monpure, explains that "regular cleansing, hydration, and exfoliation of the scalp are so important". Exfoliating 'decongests follicles, nourishes the skin, primes the scalp for the optimal absorption of other hair growth boosting ingredients, and stimulates circulation to the follicles.'
However, it's possible to have too much of a good thing. According to naturalwellbeing.com, 'Exfoliating too often can damage the scalp and hair follicles and might even cause hair loss.'
If you're worried about losing your hair faster, stick to exfoliating once a week, and don't scrub too hard.
How to exfoliate a bald head
To exfoliate your bald head, use a cloth soaked in hot water to wipe any sweat, oil, and dirt buildup away from the scalp. The exfoliating motion should be firm enough to dislodge the dead skin cells that have built up on your scalp since your last wash.
Removing this layer of dead skin will give your head a more healthy look and massively reduce the appearance of dandruff/dry skin. Apply shampoo or a specialist bald head cleaner to the cloth every other day, and just use water the rest of the time.
You can also use specialist exfoliating products, but these can damage the skin so should be used less frequently.
I use The Bald Brothers' Smooth AF scrub to maintain my melon, and if you click the link below and use the code HAPPY20 at checkout, you'll get 20% off:
Smooth AF Bald Head Exfoliate Scrub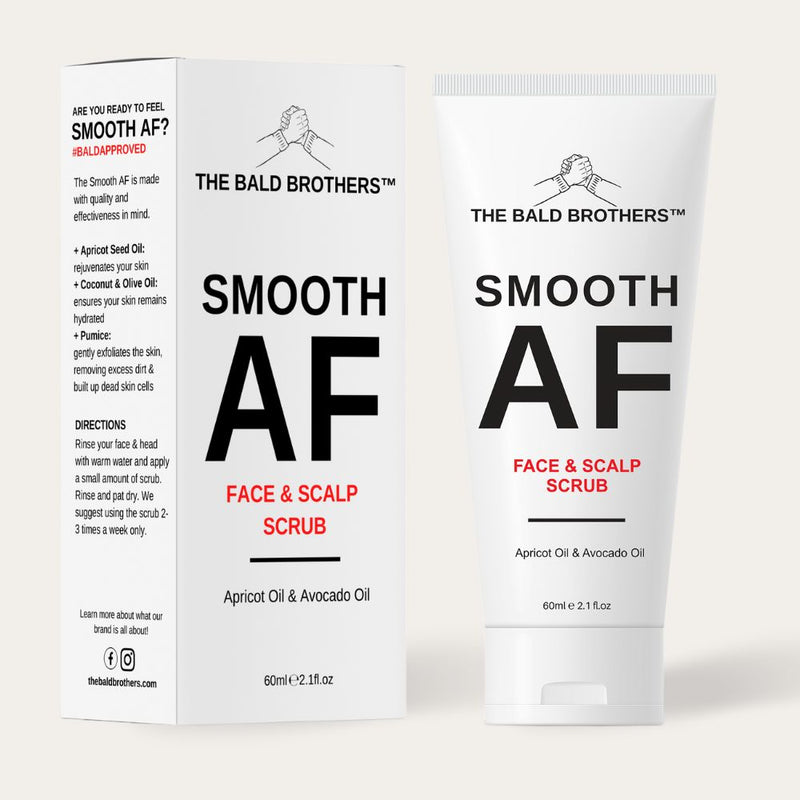 The Bald Brothers
20% off with code HAPPY20
Gently removes

dirt & dead skin

Ideal pre-shave treatment
Doubles as scalp & face cleanser
I use Smooth AF because it's a great all-round scrub, but there are other options. For example, there are more suitable products if you have sensitive skin, or if you're working to a budget. You can read about them all in this guide to the best bald head exfoliators.
After exfoliating in the shower, you might feel a slight sting as you rinse under the hot water. This is because the layer of dead skin has been scrubbed away and the new skin is sensitive.
It's normal, but if it stings a little too much it's probably a sign you're overdoing the exfoliating process.
Remember that we're just sweeping away dead skin here – if you keep scrubbing at new skin you're likely to damage your scalp. Reduce how frequently you're exfoliating and don't rub as hard, and for shorter periods.
Wait, shampoo?
Yes, shampoo. Most newly-bald gentlemen assume their shampoo days are behind them, but this is a mistake. Bald people need shampoo because it's important to keep your scalp healthy.
Once hair leaves your head, it's dead. Your scalp, however, is a living, breathing, oil-producing machine. Shampoo keeps the scalp healthy and clean.
When I wrote about the best shampoos for bald heads, I recommended C3 Head Wash as the best for general use:
C3 Head Wash
Prevents dry, flaky skin and/or oily skin
Hydrates and restores balance to skin
Sulfate and paraben-free
Safe for you and the environment
Certified cruelty-free, never tested on animals, vegan
Made in USA
C3's shampoo is ideal for bald men with regular scalps, but the article also goes into detail about which shampoo to use if you have a dry, oily, or sensitive/itchy scalp.
What to do after exfoliating
If you need to shave your head, now is the time to do so. All that dead skin can't get in the way, and the hot water should have opened the pores and softened the hair, creating less irritation.
Whether you've shaved or not, you can then use a moisturizing conditioner or a specialist bald head moisturizer like Bee Bald Smooth Plus Daily Moisturizer With SPF30 to replenish the moisture in your scalp.
Bee Bald Smooth Plus Daily Moisturizer
Protects from harmful UVA/UVB Rays
Tones, hydrates, and moisturizes skin
Smooths fine lines, wrinkles and dry patches
Helps reduce shine and control oily secretions
If you're looking for a natural alternative to moisturizer, here's a list of the best oils for a bald head.
Summary
If you're rocking a bald head, make sure you rock a healthy one. Exfoliating your scalp is vital to keep it healthy, and helps you get a closer and safer shave.
Just be sure not to overdo it, as exfoliating too hard and too often can damage the sensitive skin underneath the dead cells you've scrubbed away.
If you're already fully bald, use a cloth in the shower to clean your head as you would any other part of your body.
If you want to use an exfoliating scrub, use this 2-3 times a week at most to avoid damage to the scalp.
If you're interested in other ways to keep your scalp healthy, there are plenty more products for bald heads, and here's my complete guide to bald head care.
If you have any questions about exfoliating your scalp, let me know in the comments below.
We are sorry that this post was not useful for you!
Let us improve this post!
Tell us how we can improve this post?